You can use essential oils to provide short-term pain relief from a toothache when you don't have access to other options. Let's learn about the best essential oils for toothache now!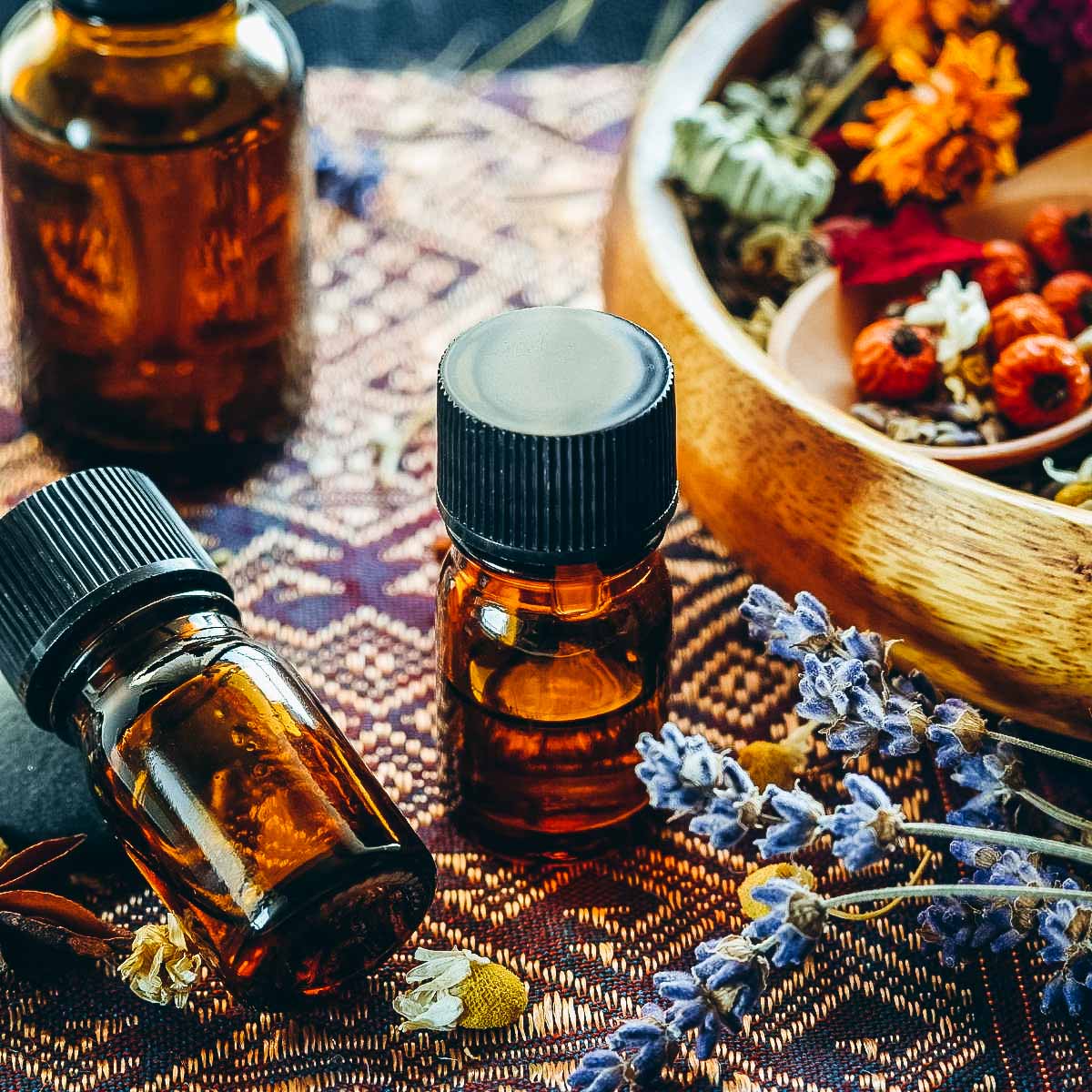 Jump to:
Disclaimer: If there is a cause for concern, one should always consult a health professional such as a dentist over trying to self-treat with home remedies. This guidance stems from my own personal experiences with mild toothaches, plants and essential oils, and should not take the place of a medical professional's advice. Also to note: this is intended for temporary relief from toothache, not long-term care.
What are Essential Oils?
Essential oils are natural compounds extracted from certain plants, flowers, trees, and resins. These oil extracts are used in an assortment of ways, like being a base for cosmetics, being an ingredient in medicine, or being a sanitizing agent. They make up the majority of what is typically referred to as aromatherapy, which is the practice of using the essential oils for therapeutic purposes to heal the body and calm the mind.
What Causes a Toothache?
Toothaches are usually caused by tooth decay such as cavities, injury such as a cracked tooth, gum disease or oral infection. But the pain can also stem from a variety of other factors that affect the bite and the jawbone, including pregnancy, stress, fever, and a lack of vitamins or minerals.
Why Use an Essential Oil for a Toothache?
There are many reasons why many people choose essential oils for a natural toothache remedy. Using an essential oil for a tooth pain can be a great way to get rid of discomfort without the use of another topical product. The natural, aromatic oils allow for pain relief inside of the mouth and can kill the bacteria in the plaque on your teeth. Essential oils are also a natural solution and are not known to have adverse effects on the body, as many medications do. This can be a great thing, especially if you have children or a sensitive stomach. 
How Do You Apply Essential Oils to Your Teeth and Gums?
To apply essential oils to your teeth and gums, the best way is to simply place a few drops directly on the tooth with your fingertip, cotton swab or a cotton ball. If you'd rather not apply essential oils with this method, you can put it in toothpaste, in mouthwash or put a few drops in your mouth and then swish with water.
Can Essential Oils Damage Teeth?
Essential oils are not known to be damaging to teeth or gums or have any side effects, however, some people are sensitive to essential oils in general, so it's always good to start by applying a little at a time to make sure no irritation or inflammation presents itself.
What Essential Oils Relieve Tooth Pain?
Clove Oil
Clove essential oil contains eugenol, a chemical that is known to help alleviate toothache symptoms. It is probably the most effective of the bunch here when it comes to pain relief. It has antimicrobial properties and a numbing effect which are most welcome when pain relief is needed ASAP. Drops of clove essential oil can be rubbed directly on the affected area.
Peppermint Oil
Peppermint oil is not only strong enough to flavor a dish, but adds a refreshing tingle to the breath. It contains menthol, which is a natural analgesic that brings relief from pain. It also helps kill the bacteria that contributes to bad breath. When combined together, clove and peppermint oils can help prevent and treat all types of tooth decay, infections, and mouth pain. To apply, dilute peppermint oil by combining 5 drops of peppermint oil to 1/2 teaspoon of a carrier oil such as coconut oil or olive oil. Be prepared for a cooling effect here.
Lavender Oil
Lavender essential oil is the ultimate soother with a myriad of uses. When it comes to toothache, it's no different. It has natural antibacterial and anti-fungal properties making it a great toothache treater and the scent helps distract and set your mind at ease amidst the pain. You can apple lavender oil directly to the teeth and gums, but if you are not fond of floral taste, you can dilute it a bit with carrier oil before applying.
Eucalyptus Oil
Eucalyptus oil is a good bathroom staple because it has strong antibacterial properties and anti-fungal qualities, which helps fight germs and bad breath. It is a powerful tool for those looking for a natural remedy for toothaches. Dilute eucalyptus oil before applying to teeth and gum area by combining 4 drops with 1/2 teaspoon of a carrier oil of choice.
Tea Tree Oil
Tea tree is the ultimate antiseptic making it an excellent choice for gum, teeth and mouth pain. It can reduce swelling, sensitivity and pain. Tea tree oil is potent and should be diluted before use. To use, add 10 drops to half a cup of warm water. Take a sip of the water and swish around in your mouth for 30 seconds. Repeat with remaining water, followed by a rinse with plain water.
Frankincense Oil
Frankincense oil has analgesic, anti-inflammatory properties and anti-bacterial properties, which make it an excellent choice when relief from toothache is needed. A couple of drops of frankincense essential oil can be rubbed onto the painful area for immediate relief.
In Conclusion
Be certain to use high quality, pure essential oil when treating a toothache. Apart from reaping the benefits of using essential oils for toothache, keep in mind that you can also drink clove tea, peppermint tea or lavender tea for some relief, too. Also, always be sure brushing and flossing for oral health are a regular part of your dental care routine. Good health overall impacts dental health. Be well!
You Might Also Like
Second Sight and Relief From Toothache: The Many Uses of Yarrow