Let's learn about the wonderful plant Mullein (Verbascum) and its leaves, flowers & roots! What it is, where it grows, how to identify, foraging, uses, medicinal benefits and more.
Here in Northern Arizona, mullein is one of the more plentiful plants you will find. Its broad fuzzy leaves and geometric design are an absolute delight to the senses. You'll likely find mullein stands apart when surveying a landscape, and rightly so. It is a wholly unique and beneficial plant. So, let's dive into the wonderful world of mullein!
Jump to:
What is Mullein?
Mullein is a biennial flowering plant of the genus Verbascum. This genus contains over 300 species of mullein. Verbascum thapsus is known as 'common mullein' or 'great mullein' and is the species most commonly used in herbal medicine making. Native to Asia, Mullein can now be found in most parts of the world and is considered invasive in some regions.
Where Does Mullein Grow?
Mullein favors open landscapes with plenty of sun. It grows best in soil on the drier, sandier, rockier side. You will often find mullein growing in open meadows, the edges of forests and roadsides.
Identifying Mullein
The first tell-tale sign of mullein is stumbling upon a rosette of broad, fuzzy, velvet-like leaves. In its second year of growth, it will develop a tall, sturdy, upright stalk that eventually forms a cluster of densely packed yellow flowers at the top of the stalk.
Foraging Mullein
All parts of the plant, except the seeds, are safely edible and have medicinal benefits and uses. The seeds contain a poisonous substance called 'rotenone'.
Foraging Mullein Leaves
For best results, harvest leaves during the first year of growth before the plant develops a flower stalk, most likely during late spring and early summer. Take care with your hands, as the tiny hairs on the leaves can be slightly irritating for some.
Foraging Mullein Flowers
During the second year of growth, small yellow flowers will likely develop come late summer and early fall. Some plants develop a lot of flowers, and others are sparse. Pick the small yellow blossoms when they are open, being certain to leave some behind for pollinators.
Foraging Mullein Roots
Mullein has a long taproot and can be fairly challenging to harvest. Be patient and gently loosen the soil around the base of the plant until you reach the roots. The best time to harvest mullein roots is during the fall of the first year or spring of its second, before it flowers.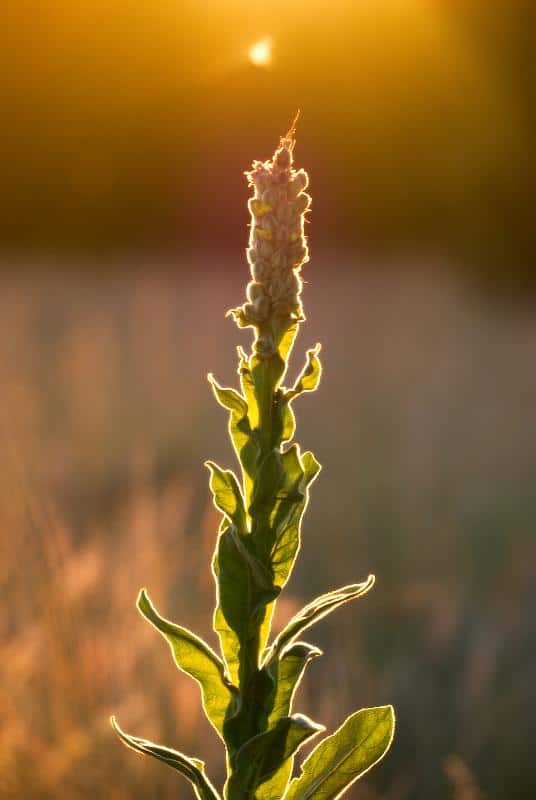 Mullein Benefits
Mullein is an excellent ally for the respiratory system with its expectorant and soothing demulcent properties. It is also an analgesic with natural pain-relieving and anti-inflammatory properties. Mullein has rather potent anti-viral and anti-bacterial properties, too.
Mullein Uses
The leaves of the mullein plant are known as "nature's toilet paper" (with good reason!).
The leaves, fresh or dried, can be steeped to make a tea perfect for respiratory health. It is beneficial for those with asthma, bronchitis, pneumonia or anyone with a chronic cough. It is also an effective pain reliever.
The dried leaves can also be smoked or used in a steam bath for respiratory health.
The fresh or dried flowers can be used to make a wonderful infused oil beneficial for earaches.
The fresh or dried flowers can be steeped to make a tea beneficial for respiratory health and digestive health. Mullein helps remove excess of mucus in the intestines and also produces a healthy layer of mucus in the digestive tract to take its place.
The fresh or dried flowers can be used to make a tincture that makes a great pain reliever, respiratory tract ally and overall tonic with anti-viral and anti-bacterial properties.
The fresh or dried flowers infused into oils and incorporated into skincare products can be immensely soothing and calming for skin irritations and conditions.
The dried or dead flower stalks make excellent torches! Once lit, they burn easily and evenly with a beautiful golden flame for approximately 30 minutes.
Mullein roots are beneficial to the urinary tract system.
Mullein roots are good for lower back pain.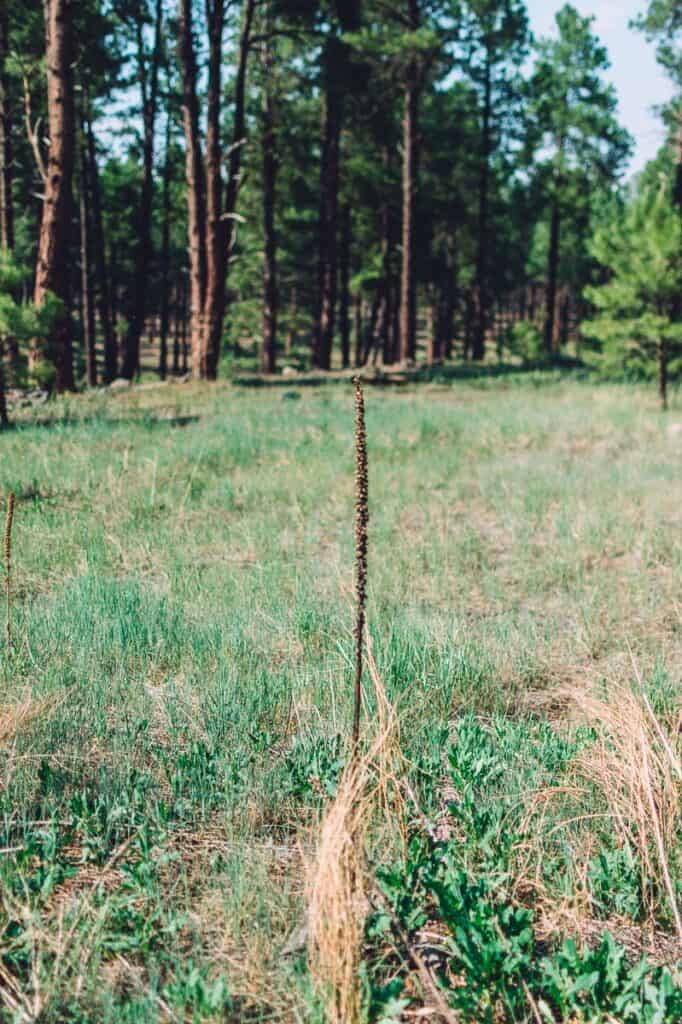 Mullein DIY and Recipes
*coming soon* In time, I will be sharing my favorite things to make with mullein on the blog. I will update this post as I do!
Fun Fact
Mullein can be a great indicator of soil health. If mullein has a strong straight stalk, the soil is healthy. If the stalk is growing crooked, this indicates that the soil is likely contaminated by chemicals.
Takeaways
As you can see, mullein is easy to identify, a great first foraging project, a wonderful health ally and can be used a multitude of ways. Keep your eyes open the next time you step out of your house and you may just make yourself a fuzzy friend!
Medical Disclaimer: All that I share here is based upon my lifelong relationship with plants. Please always do your own research and consult with medical professionals when needed.