Blue Lotus tea is a simple herbal tea with just two ingredients, including the blue lotus flower, a magical medicinal plant that has been used since ancient Egyptian times.
Jump to:
What is Blue Lotus?
The blue lotus flower (Nymphaea caerulea) has been used in herbal remedies dating back to the ancient Egyptians, Thais, and Syrians as well as in parts of India. The endangered plant was used by the ancient Egyptians as part of celebrations including in the form of blue lotus wine. This ancestral flower was considered the official flower of the sun god Ra and was used for deep relaxation among other benefits.
The blue Egyptian lotus is a water-growing plant where it floats on the surface as its roots drive deep into the earth. The plant's flowers open during the day and close up at night. It shouldn't be confused with another plant known as the water lily flower (Latin name: Nelumbo nucifera).
The dried blue water lily flower has been associated with psychedelic effects and lucid dreaming, lending to its modern uses as a mind-altering drink. Blue Lotus tea is made from the blue lily flower without the leaves and offers an intoxicating fragrance.
Blue Lotus Effects
Psychoactive Effects
Blue lotus tea has been used for centuries in the Middle East, and it is known for its mild psychoactive effects. The tea is made from the flowers of the blue lotus plant, and it is thought that the active ingredients in the tea are compounds known as apomorphine and nuciferine.
When consumed, apomorphine and nuciferine are thought to act on the brain's dopamine receptors, resulting in feelings of euphoria. These effects are thought to be responsible for the ancient Egyptians' use of blue lotus tea during religious ceremonies and celebrations. It is believed that the blue lotus acted as a gateway to the divine and greatly enhanced third eye function, to name a few.
In large amounts, especially through the inhalation of blue lotus incense or in strong tincture form, the blue lotus flower has been known to cause visual hallucinations.
Aphrodisiac Effects
Though its use as an aphrodisiac has not been confirmed by modern medical research, blue lotus extract has a long history of being used for this purpose. The plant has played a role in sexual ceremonies in many historical contexts, particularly in ancient Egypt.
In recent years, some people have claimed that the extract can help to increase libido and improve sexual performance or to help with erectile dysfunction. However, there is limited scientific evidence to support these claims. Nevertheless, it is a commonly used natural aphrodisiac.
Pain Relieving Effects
The blue lotus is also known as a natural pain reliever with antispasmodic effects, which can be particularly useful for relieving cramps brought about during a menstrual cycle, as well as providing relief from any inflammation occurring throughout the whole body, thanks to its many antioxidants. It can be a wonderful aid during any painful symptoms that may be occurring.
Using Blue Lotus for Lucid Dreaming
Lucid dreaming is a state of consciousness in which dreamers are aware that they are dreaming. Lucid dreams can be induced by various methods, including teas and supplements made from the blue lotus plant.
Blue lotus tea has been used for centuries by cultures all over the world to enhance dreams and induce states of altered consciousness. The petals of the blue lily plant contain psychoactive alkaloids that can produce feelings of relaxation and euphoria and ease feelings of anxiety.
In addition to tea, blue lotus flower extract can be added to water to make an herbal tincture, or it can be vaporized using vaporizers. While there is no scientific evidence to support the claim that this sacred blue lily aids in lucid dreaming, many people swear by its effectiveness.
How to Make Blue Lotus Tea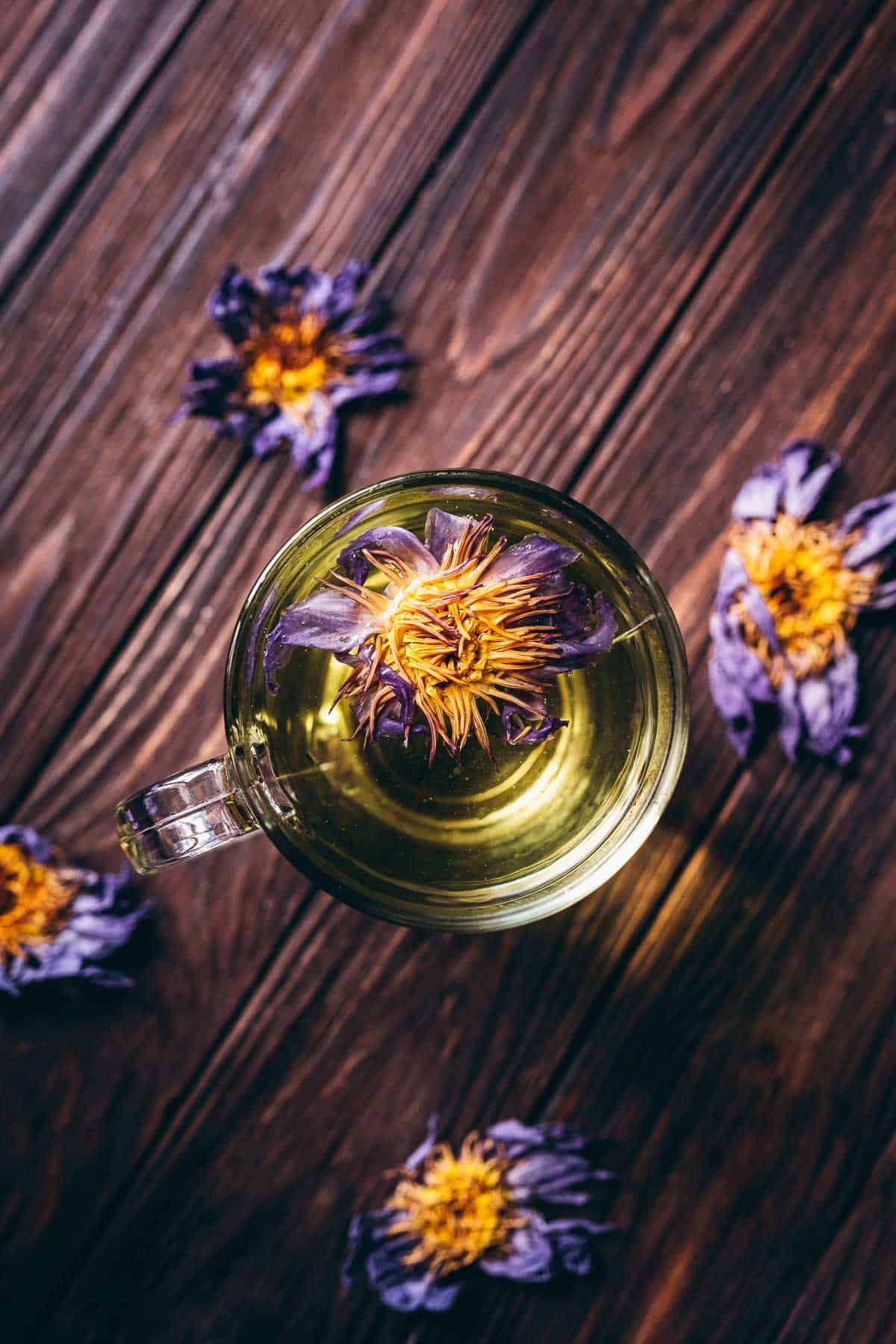 Take a pot, pan, or kettle and bring the water to boiling point.
Turn off the heat (if there is a source) and add the flower into the pot, placing a lid on it. If you plan to use a mug instead, pour the water over the flowers and cover the mug with a saucer. Leave to steep for 15 minutes.
You can then either strain the flowers or leave them in the drink and enjoy it once it is the right temperature for your preference.
You can also add some honey to sweeten the flavor of the beverage.
Frequently Asked Questions
Is blue lotus safe?
Though the flower is legal in most countries, it's important to speak with your healthcare provider if you're considering trying the blue lotus flower.

The Food and Drug Administration (FDA) labels the flower as poisonous, yet doesn't classify it as a controlled substance so it is fit for human consumption. But it also means it's difficult to know what a safe dosage would be.

Further, there's no real safety data on the substance and possible side effects. It's always best to err on the side of caution and speak with your healthcare provider before taking any new supplement, especially one with such limited research behind it.
Is blue lotus hallucinogenic?
If you're interested in the effects of the blue lotus, there are a few things you should know first. It's known as an entheogenic drug, which is a mind-altering substance believed to alter one's consciousness in a spiritual or religious manner. This term is commonly used instead of hallucinogenic.

Consuming blue lotus flowers may make you feel "high" and result in a gentle euphoria. Some people have said it is a bit like the high from consuming cannabis, but it does tend to affect people differently.
Does blue lotus tea make you sleepy?
Blue lotus tea has been used for centuries as a natural remedy for a variety of ailments. Thanks to the presence of compounds like nuciferine and aporphine, the tea is thought to offer effects that aids sleep.

The tea is also believed to offer gastrointestinal benefits, helping to alleviate problems like dyspepsia.

While more research is needed to confirm its effect of it on the nervous system, there is some evidence that the tea may be an effective natural remedy for those who suffer from insomnia or other sleep disorders. For those looking for a safe and natural way to improve their sleep quality, blue lotus tea may be worth trying.
Does blue lotus tea contain caffeine?
No. Blue lotus tea is completely caffeine-free.
What does blue lotus tea taste like?
Blue lotus tea has a subtle taste with both fruity and floral notes.
You Might Also Like
Blue Lotus Tea
Blue Lotus tea is a simple herbal tea with just two ingredients, including the blue lotus flower, a magical medicinal plant that has been used since ancient Egyptian times.
Ingredients
2

cups

boiling water

2

dried blue lotus flowers

about 5 grams
Instructions
Using a pot or a kettle, bring the water to a boil.

If using a pot, turn off the heat, place the flowers in the pot and place a lid on. If using a mug, place the flowers in the mug, pour the boiling water over them and then cover the mug with a saucer. Let steep for 15 minutes.

Strain the flowers (or keep them if you prefer!) and enjoy!
Nutrition
Serving:
1
serving
|
Calories:
1
kcal
|
Carbohydrates:
0.1
g
|
Protein:
0.04
g
|
Potassium:
7
mg
|
Vitamin A:
78
IU
|
Vitamin C:
1
mg
|
Calcium:
16
mg
|
Iron:
0.03
mg