Making your own black walnut bitters is easier than you think! Whether you are looking for a homemade cocktail addition or are interested in the medicinal benefits of digestive bitters, you've come to the right place!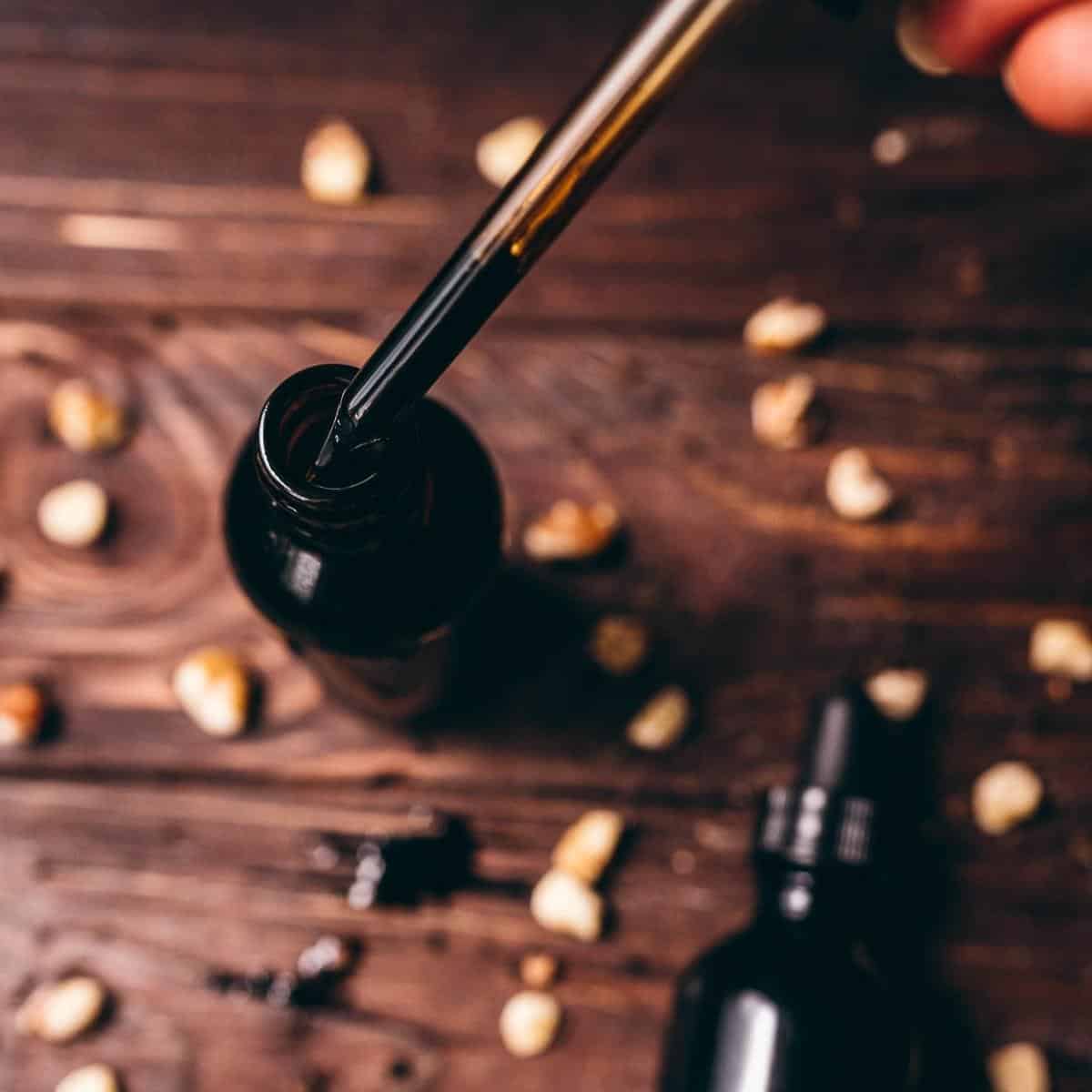 Jump to:
What are Bitters?
Bitters are a key ingredient in many cocktails, adding flavor, depth and complexity. They are made by infusing aromatic botanicals, like herbs, roots, nuts, and sometimes fruits or vegetables, into a flavorless base. This results in a very strong and potent liquid.
The botanicals used in bitters can vary widely, resulting in different flavors and aromas. And because bitters are so concentrated, just a few drops can go a long way!
Bitters are sometimes referred to as the "seasoning" of a drink. They help to bring out the other flavors or add additional flavor based on the type of bitter being used.
Additionally, bitters often have medicinal qualities. Digestive bitters, as they are known in the herbalism world, have been used for hundred of years for a variety of uses.
Our bodies respond to a bitter taste in the mouth by producing more digestive fluids, integral for proper gut function. Bitters can positively impact gut lining health, detox pathways in the digestive system, can stimulate the appetite for those in need of such, and can even help regulate blood sugar, to name a few!
Why You'll Love This Recipe
If you're a fan of bitters, you've probably tried a few different types that are available commercially. But have you ever made your own bitters at home? Homemade bitters are not only incredibly delicious, but they're also easy to customize to your own taste. And when it comes to walnut bitters, there's no better way to get that perfect flavor than by making them yourself.
Because homemade bitters are so concentrated, a little goes a long way. Start by adding just a few drops to your favorite cocktail or mocktail recipe. You can always add more if you want a stronger flavor. And since they keep for months (or even years), you'll always have them on hand for when the mood strikes.
Ingredients
Black walnut hulls: Go for cut and sifted black walnut hulls for the best results. Black walnut hulls not only add a wholly unique flavor, which is a great addition to cocktails and mocktails, but also great medicinal benefits. One of black walnut's most unique properties is its ability to eliminate parasites from the intestines by way of not only its hearty tannins content, but also a natural non-toxic herbicide known as juglone. Black walnut also has strong anti-fungal properties, making it a great plant to incorporate for those trying to eliminate candida (yeast) from their systems.
Cinnamon chips: You can find cinnamon chips at most health food stores or online. Cinnamon chips are basically just dried, cut and sifted cinnamon bark.
Cloves: Cloves add a warm and spicy flavor to the bitters. Use whole cloves for this recipe.
Cacao nibs: Cacao nibs are chocolate in their purest form and they add a rich flavor, with notes of cocoa, to the bitters that greatly complements the other ingredients used.
Peppercorns: Peppercorns add a bit of subtle and complex heat to the mix. I prefer black peppercorns.
Alcohol, Vinegar or Vegetable Glycerin: You can use something like bourbon or vodka here, cane alcohol also works well. Apple cider vinegar is my preferred method if you want to go down the vinegar route. Or use a mixture of vegetable glycerin and distilled water or mountain spring water for the third option, that is a great option for kids due to its natural sweetness, or those that abstain from alcohol.
How to Make Walnut Bitters
Take a clean jar and place the walnut hulls, cinnamon, cloves, peppercorns, and cacao nibs into it.
Cover the jar with either alcohol, vinegar, or a glycerin and water mix, depending on which you want to use.
Place the lid on tightly and put the jar somewhere dark, away from direct sunlight so the liquid can infuse. Leave it there for at least two weeks or up to three months.
Strain the bitters and transfer them into a bottle with a dropper.
Please note: If using vinegar, you will want to place a piece of parchment paper or cheesecloth over the jar before screwing the lid, on vinegar can be quite corrosive to a metal lid.
How to Use Bitters
Walnut bitters are a great way to add a unique full bodied flavor to your cocktails. They can be used in all sorts of cocktail recipes from Martinis to Old Fashioneds, as well as drinks like the Manhattan. It works as well with gin and rum as with whiskey.
To use walnut bitters, simply add a few drops to your cocktail and stir then add your garnish of choice, such as orange peel or a sprig of rosemary. You can also use them in a rimming salt for margaritas or other drinks.
Walnut bitters are also a great addition to any herbal medicine stash. Keep them on hand when your gut needs a bit of healing and repair, or someone's appetite needs stimulating. Black walnut bitters in particular are great at eliminating parasites and yeast from the body. To use in this manner, simply take by the dropper full straight on the tongue or simply stir into a glass of water.
Storage
Once the bitters are in a dropper bottle (I like to use 2 oz bottles), store them in the refrigerator or a cool, dry place. It will last for at least 12 months when you store it correctly.
Frequently Asked Questions
What do walnut bitters taste like?
Walnut bitters have a deep, rich flavor that is perfect for adding a touch of complexity to cocktails, mocktails or simply water. The robust nut flavor of the real walnuts comes through clearly, with a slightly nutty sweetness that is balanced by the bitterness of the menstruum and the earthly aromatics of the spices.

The result is versatile bitters that can be used in all sorts of drinks, from classic cocktails to modern mixers or used for the medicinal benefits alone.
What goes good with bitters?
When it comes to mixology, walnut bitters are a bit of an acquired taste. They can be tricky to work with, but when used judiciously, they can add a unique flavor to cocktails. For example, walnut bitters pair well with earthy flavors like bourbon and rye whiskey.

They also work well with citrusy fruits like orange and lemon. And if you're looking for a real adventure, try pairing walnut bitters with chocolate or coffee liqueurs. You could even add a drop or two to a cup of coffee.

The key is to start slowly and build up the flavor profile gradually. A few drops of walnut bitters can go a long way, so it's best to err on the side of caution.
You Might Also Like
Easy Black Walnut Bitters Recipe
Making your own black walnut bitters is easier than you think! Whether you are looking for a homemade cocktail addition or are interested in the medicinal benefits of digestive bitters, you've come to the right place!
Ingredients
Alcohol Method
1

cup

high-proof bourbon or cane alcohol
Vinegar Method
1

cup

apple cider vinegar
Glycerite Method
⅔

cup

vegetable glycerin

⅓

cup

distilled or spring water
Instructions
In a clean jar, place the walnut hulls, cinnamon, cloves, cacao nibs and peppercorns.

Cover with the menstruum of choice (alcohol, vinegar, or glycerin/water).

Place a lid on tightly and place the jar in a place away from direct sunlight to infuse for at least 2 weeks (up to 3 months).

Strain the bitters and funnel into a dropper bottle(s).

Keep in the refrigerator or a cool, dry place for up to one year.
Nutrition
Serving:
1
full dropper
|
Calories:
3
kcal
|
Carbohydrates:
0.2
g
|
Protein:
0.02
g
|
Fat:
0.04
g
|
Saturated Fat:
0.03
g
|
Polyunsaturated Fat:
0.002
g
|
Monounsaturated Fat:
0.001
g
|
Sodium:
1
mg
|
Potassium:
10
mg
|
Fiber:
0.03
g
|
Sugar:
0.05
g
|
Vitamin A:
0.3
IU
|
Calcium:
1
mg
|
Iron:
0.03
mg