Whether you're on your own or have kids in tow, have some fun with this fun nature walk scavenger hunt. Bonus: print out a free printable checklist to use as you find each element. Enjoy!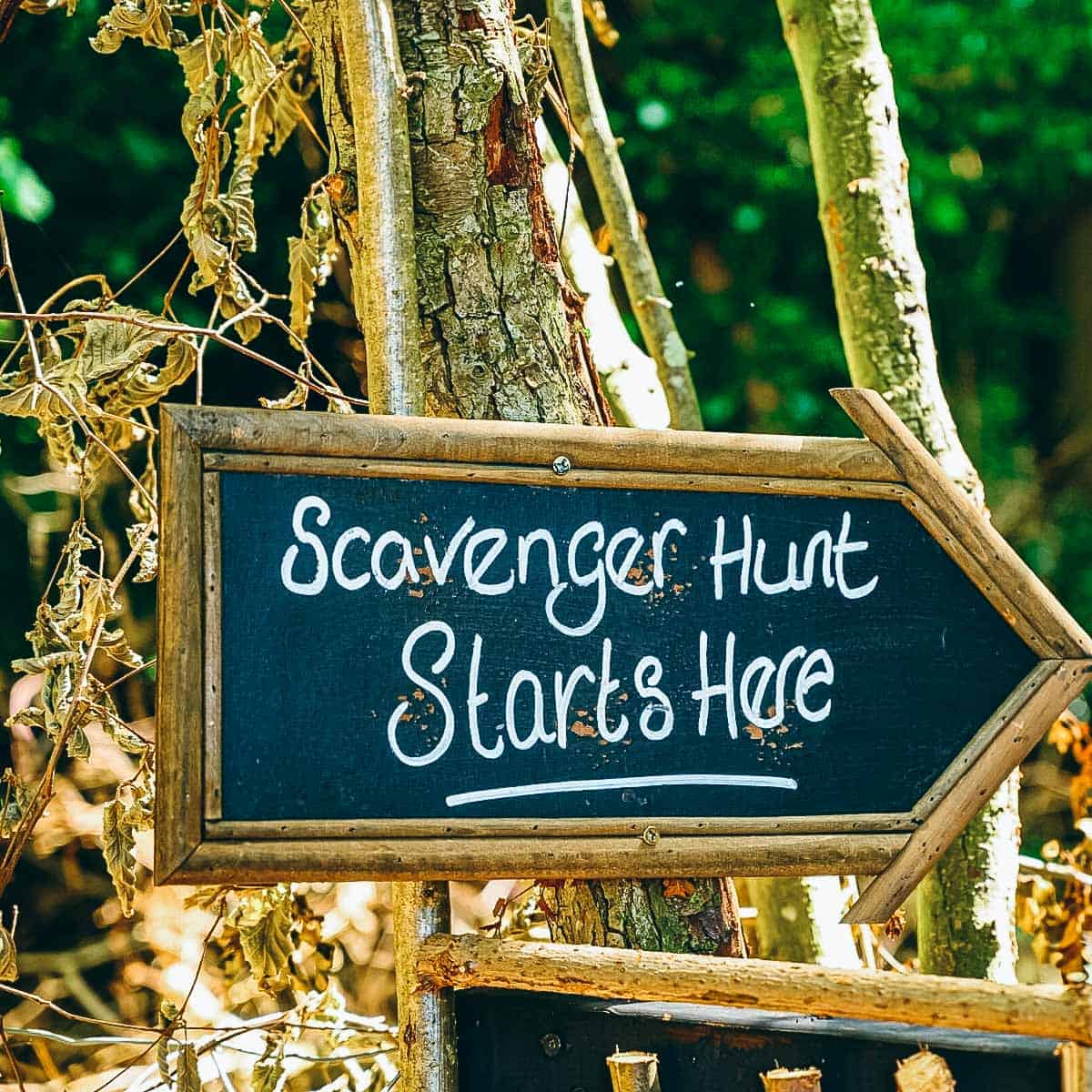 Here for the printable? Click the image below and it will take you to a full resolution PDF file free for you to download and/or print! Otherwise, scroll below to see the full list of nature scavenger hunt ideas. Enjoy!
Jump to:
Free Nature Scavenger Hunt Printable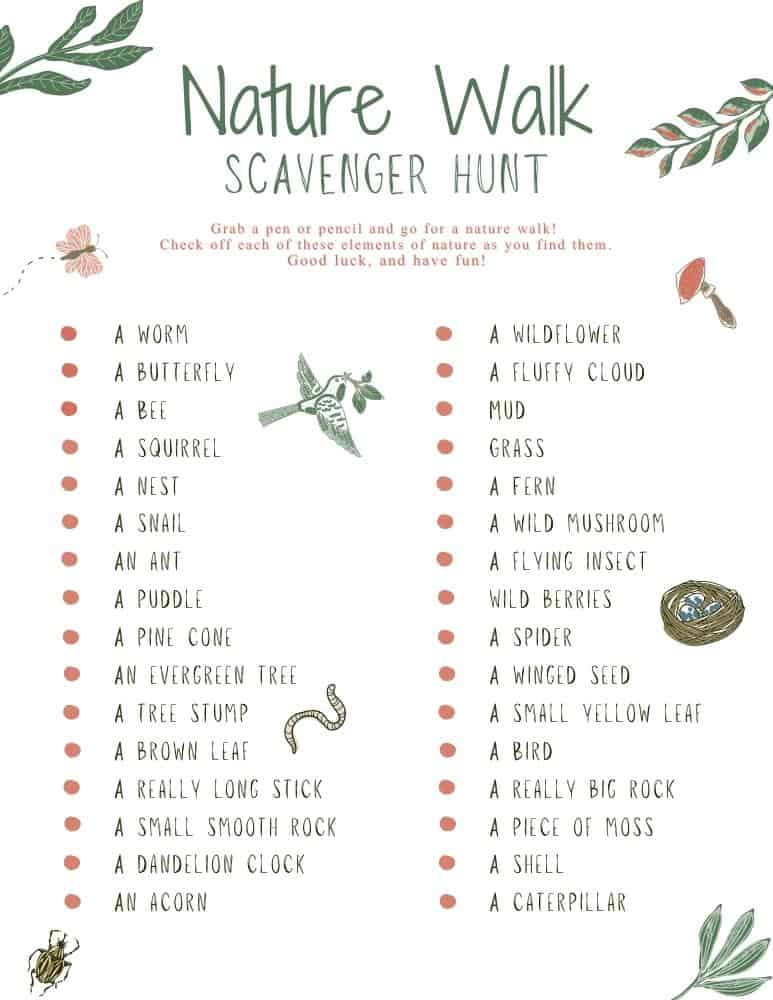 32 Nature Walk Scavenger Hunt Ideas
Few things are more enjoyable than heading out in the great outdoors, but if you're looking to have a bit of unique fun while you're at it, grab some pencils or markers, maybe a magnifying glass or binoculars, the printable list above or take a gander at the ideas below for your next nature outing or even a short trip to your own backyard or neighborhood!
Outdoor scavenger hunts are great for young kids and older children alike and make the perfect activity for a pleasant day. If you choose to collect your nature finds, you can return home for a simple nature craft. This is also a great outdoor adventure to throw a picnic break into or pull out a nature notebook to document your findings.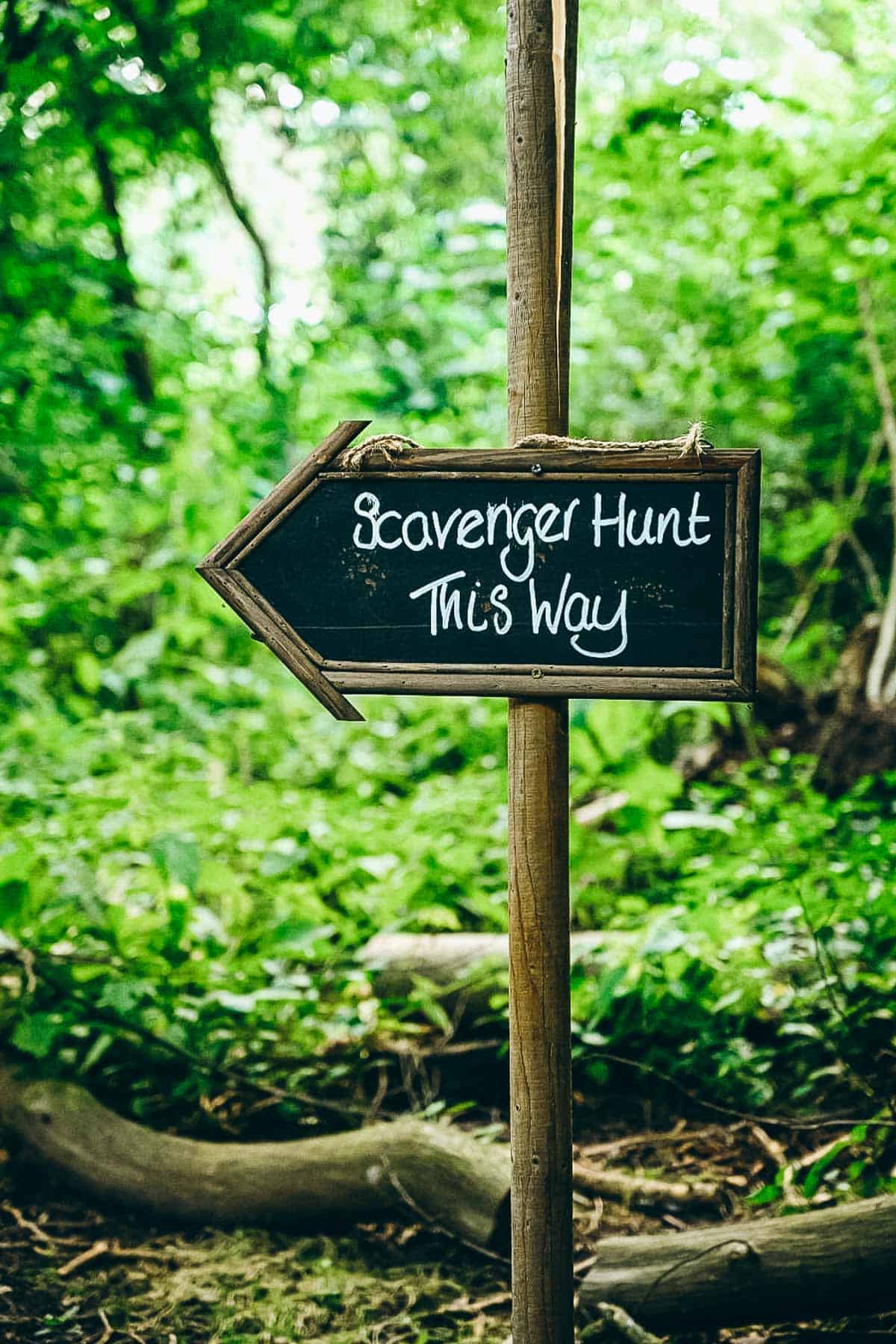 1. Worm.
If you have trouble finding a worm, look for a snake instead.
2. Butterfly.
If you can't find a butterfly, try to spot a moth instead.
3. Bird.
If you can't find a bird, try spotting a bat instead.
4. Squirrel.
If you can't spot a squirrel, try looking for a chipmunk or rabbit instead.
5. Nest.
If you can't find a bird's nest, try to find a spiderweb instead.
6. Snail.
If you can't find a snail, look for a slug or centipede instead.
7. Ant.
If you have trouble spotting an ant, look out for a beetle instead.
8. Puddle.
If you can't find a puddle, look for a pond or creek instead.
9. Pine cone.
Having trouble finding pine cones? Look out for fallen branches instead.
10. Evergreen tree.
Don't have evergreens where you live? Try to spot a bright green tree instead.
11. Tree stump.
Can't find a tree stump? Try to find a boulder or cave instead.
12. Brown leaf.
No brown leaves? Look for fuzzy leaves instead.
13. Long stick.
If you can't find a long stick, look for stems of any sort instead.
14. Small smooth rock.
If you can't find a smooth rock, look for a rough pebble instead.
15. Dandelion clock.
No dandelions? Look for any dried flowers or flower seed heads instead.
16. Acorn.
No acorns? How about chestnuts, walnuts or even fallen apples from an apple tree?
17. Fluffy cloud.
If it's a cloudless day, try to spot a bee or wasp instead.
18. Mud.
If things are dry, try to find sand or sandy soil instead.
19. Grass.
No grass? Try to spot tall plants of any sort instead.
20. Wild mushroom.
If you can't find any wild mushrooms or fungus, try to find lichen growing on a tree as an alternative.
21. Flying insect.
Nothing flying by? Try to find bugs crawling along the ground instead.
22. Wild berries.
No bushes about? Try to find a fruit tree instead.
23. Wildflowers.
Try to find a flower in bloom. No luck? Try to find a green ivy instead.
24. Winged seed.
No winged seeds in your area? Try to find a seed or seed pod of any sort.
25. Small yellow leaf.
No yellow leaves? Look for bright green ones instead.
26. Big rock.
Can't find a big rock or boulder? Try to find a small rock or pebble of any sort.
27. Moss.
Can't find any moss? How lichen instead?
28. Shell.
Try to find a snail's shell or shells by a body of water. No luck? Look for exoskeletons or shedded snake skin instead.
29. Caterpillar.
Can't find any caterpillars? Try to spot a worm instead.
30. Bee.
Not seeing any bees or wasps? Look for a flying bird instead.
31. Spider.
No spiders? How about a beetle?
32. Fern.
Can't find any ferns? Look for ivy growing up a tree instead.
Bad weather? Check out these dot-to-dot printables for children and fire safety worksheets instead instead!
You Might Also Like