Hapa Zome is an easy eco printing technique using fresh plant material, natural fabric and a hammer or mallet. It is a fun and unique nature craft for preserving your favorite botanical materials.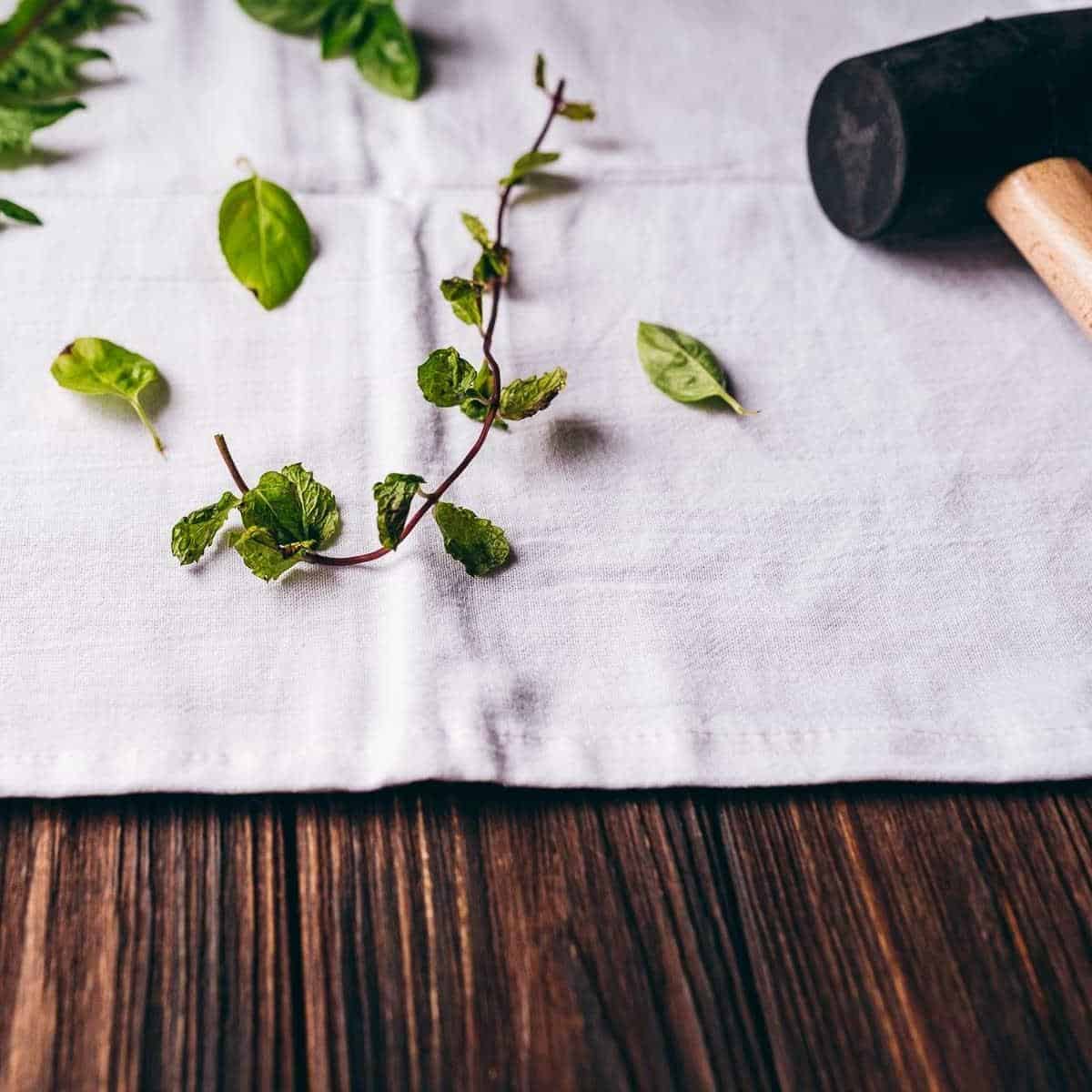 Hapa Zome is a great craft to do with the kids during the summer that doesn't need anything in the way of expensive or fancy equipment. Instead, you can use what you find in nature and around your home to create stunning fabrics.
Jump to:
What is Hapa Zome?
Have you ever wanted to dye your own fabric using natural plant pigments? If so, hapa-zome printing may be the perfect technique for you. Hapa-zome, which means 'leaf dye' in Japanese, is a traditional method of applying plant pigments to the fabric. It was created by India Flint based on ancient techniques.
The process is simple: just arrange fresh, juicy plants on your fabric, and then use a mallet or other blunt instrument to smash them into the fabric. The plant matter will leave behind a beautiful imprint, which can be used to create any pattern you like. There are loads of different effects you can create with it.
If you're new to natural dyeing, hapa-zome printing is a great place to start and is suitable for every skill level.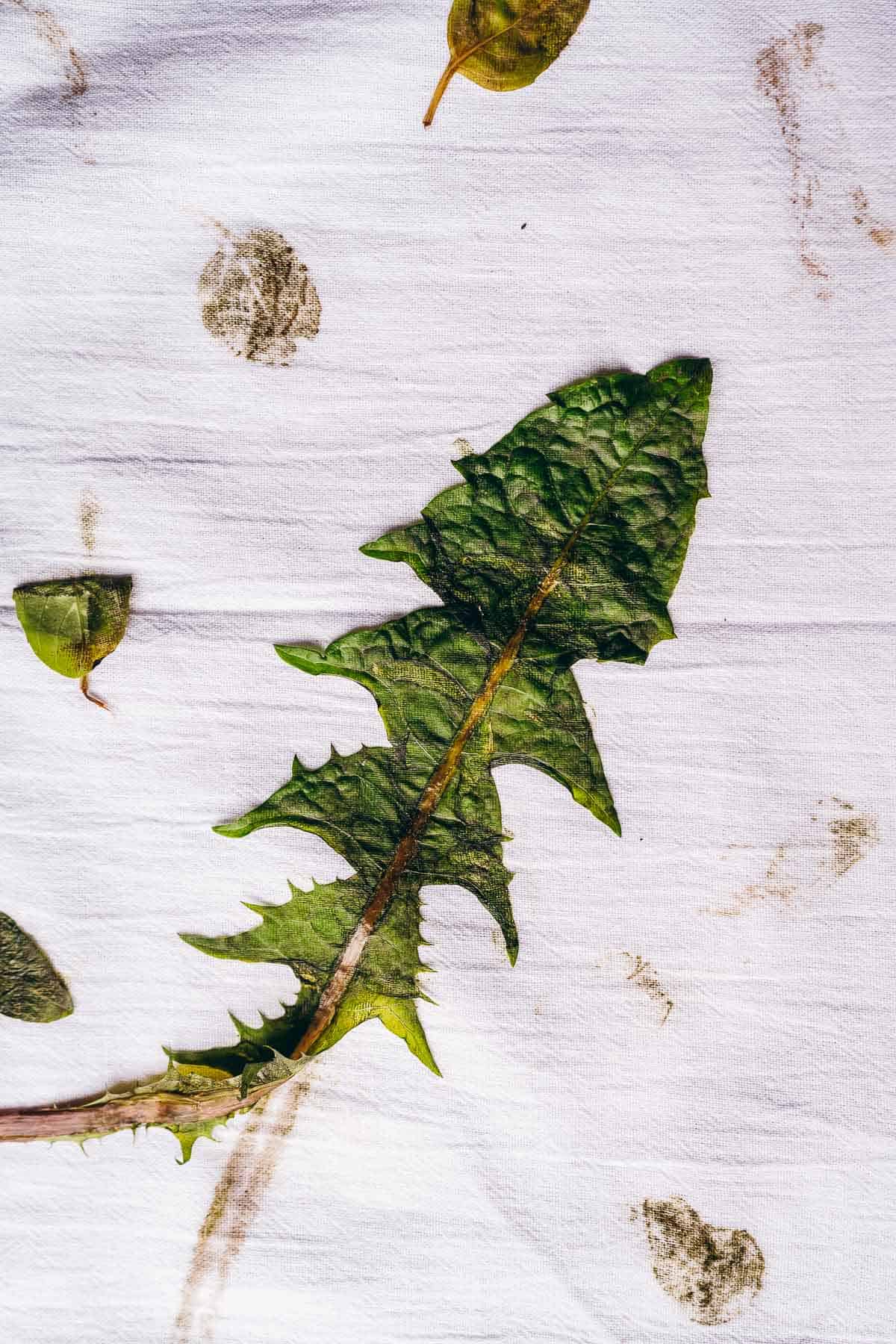 Materials Needed
Fabric: You will want a piece of natural, breathable fabric for each project and cotton fabric is ideal for this. You might also want an old towel or a thick cloth to work on when you are using the hammer or mallet, to minimize noise and movement, though this is completely optional.
Plants: Flowers and leaves are the best for this technique and they need to be fresh. So, just before you are ready to make your hapa zome, go out and do some foraging for them. You can even go for seasonal things like autumn leaves or primula or spring crocus flowers for a theme. Don't discount things like dandelions, clover, and dock leaves that can also be very effective. If you have trouble finding something around where you live, you can always buy a beautiful fresh bouquet of flowers from a local florist or grocery store, too.
Hammer or mallet: To smash the flowers and leaves into the cloth, you'll want either a rubber mallet or a small hammer. Alternatively, you can even use a large, smooth rock.
How to Hapa Zome
Take the leaves and flowers you have collected and put your cotton material onto a wooden backing board (if you want to use one) or a solid, smooth surface such as a sturdy table. Use some masking tape if using a backing board to keep it in place.
Create a pattern with the flowers and leaves on one-half of the fabric.
Fold the fabric over so that the blank side is over the top of the leaves and flowers.
Optionally, place an old towel or thick cloth on top of the fabric so you make less noise when bashing it.
Carefully smash the plants with the mallet or hammer so they are crushed into the fabric. Supervision for the kids is important for this stage and you probably don't want the toddler in the house doing it!
Remove the towel and carefully open the fabric then hang it up. You can remove the plant material that removes easily now or once it is dry and most moisture is gone, brush off the excess plant matter carefully.
Frequently Asked Questions
How do I make hapa zome permanent?
Hapa zome is a Japanese fabric printing technique that uses the natural pigments found in plant leaves and flowers. The results are beautiful, but temporary - over time, the colors will fade to taupe and definitely won't survive a wash.

To make the hapa zome print permanent, the fabric can be mordanted before use - this involves simmering the fabric in a solution, rinsing, and drying.

While there are many different ways to mordant fabric, one of the simplest is to use soy milk. To start, mix a liter of soy milk into 5 liters of cold water. Then, wash your fabric in the washing machine and let it dry naturally.

Next, soak the fabric in the milk mixture for 24 hours. After that, spin off the milk in the washing machine and let the fabric dry naturally. Finally, place the fabric back into the milk mixture and repeat this process around three times.

After a few days, try hapa zome following the above instructions. Finally, fix with an iron and wait as long as possible before washing. By following these steps, you can easily mordant your fabric using soy milk.
Does hapa zome work on paper?
While hapa zome will work on any type of paper, something like watercolor paper is better as it can absorb the colors. This is because the fibers in the paper are more loosely bound together, which allows the dye to penetrate more easily.

Copier paper, on the other hand, is too smooth and the dye will sit on top of the paper instead of being absorbed. Therefore, if you're interested in trying hapa zome on paper, it's best to use a type of paper that will allow the colors to really stand out. Don't forget to try different weights or thicknesses of paper as well to create beautiful works of art on your piece of paper.
Can I use any plants for hapa zome?
Any plants can be used for this wonderful creative technique, although some will produce brighter or more vibrant colors than others.

Certain plants also have historical or cultural significance in Japanese textile traditions. For example, the traditional kimono fabric known as shibori is dyed with indigo, while the red used in lacquerware comes from the sap of the urushi tree.

When choosing plants for ha pa zome, it is therefore advisable to pick ones that you recognize and know to be safe. This is especially important if you are working with children, as some plants can be poisonous if ingested.
More Activities You Might Enjoy
Hapa Zome
Hapa Zome is an easy eco printing technique using fresh plant material, natural fabric and a hammer or mallet. It is a unique nature craft for preserving your favorite botanical materials.
Materials
1

piece

light-colored natural fabric

cotton works best

1

rubber mallet or hammer

fresh plant material of choice

flowers or leaves
Instructions
Start with a sturdy surface that will not be damaged by the pounding action of a mallet or hammer.

Place a flat piece of fabric on prepared surface.

Arrange the fresh plant material on one half of the fabric in any fashion you would like.

Fold the other half of the fabric over the plant material and gently press down to flatten.

Using a rubber mallet or hammer, gently, but firmly, pound the fabric, ensuring you smash each piece of plant material into the fabric, until you see the natural dye seeping through the fabric.

When you feel satisfied by your design and how much plant material has dyed the fabric, unfold the fabric and carefully remove the plant material. If the material is stuck, it's okay to leave it attached during the drying process.
Notes
These instructions are great for a first time eco printing technique, especially for kids. If you would prefer making the botanical print more permanent, refer the frequently asked questions section of this post for a mordant technique to use prior to following the hapa zome instructions. Alternatively, you can also lightly set the prints by soaking the dried fabric in salt water, then hanging to dry again.
You might like: DIY Onion Skins Dye.