Yarrow (achillea millefolium) is known across the world for its medicinal properties and has a rich history in folklore. We'll talk here about how to identify yarrow, foraging for yarrow, its uses and the mythology surrounding it.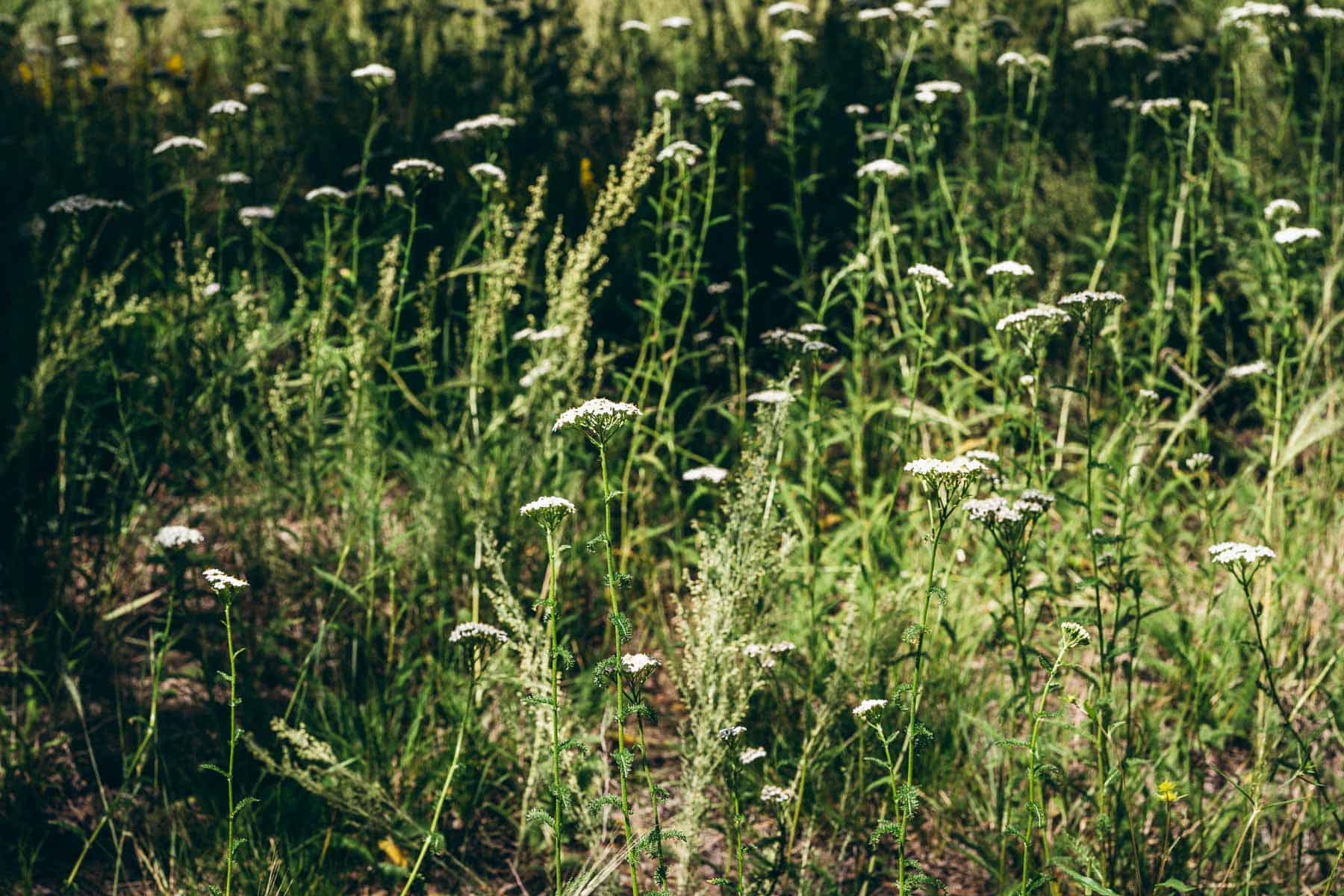 Jump to:
What is Yarrow?
Yarrow, also known as achillea, nosebleed, bloodwort, little feather and many other names, is a perennial in the Asteraceae family. It's native to regions in the Northern Hemisphere in North America, Asia and Europe, but was spread across the world by traders who discovered the many yarrow benefits.
It's recognizable by its small white and pink flowers and feather-like leaves. The flowers, leaves and roots of the yarrow are all used in traditional medicine.
Where Does Yarrow Grow?
Common yarrow grows naturally in the wild in areas of grassland and the open forest, usually in mildly disturbed soil.
If you want to grow yarrow yourself, planting it in areas where it receives full sun will encourage the growth of more flowers. Partial shade may result in uneven growth. Yarrow likes hot and dry conditions best, and it won't do well in wet soil.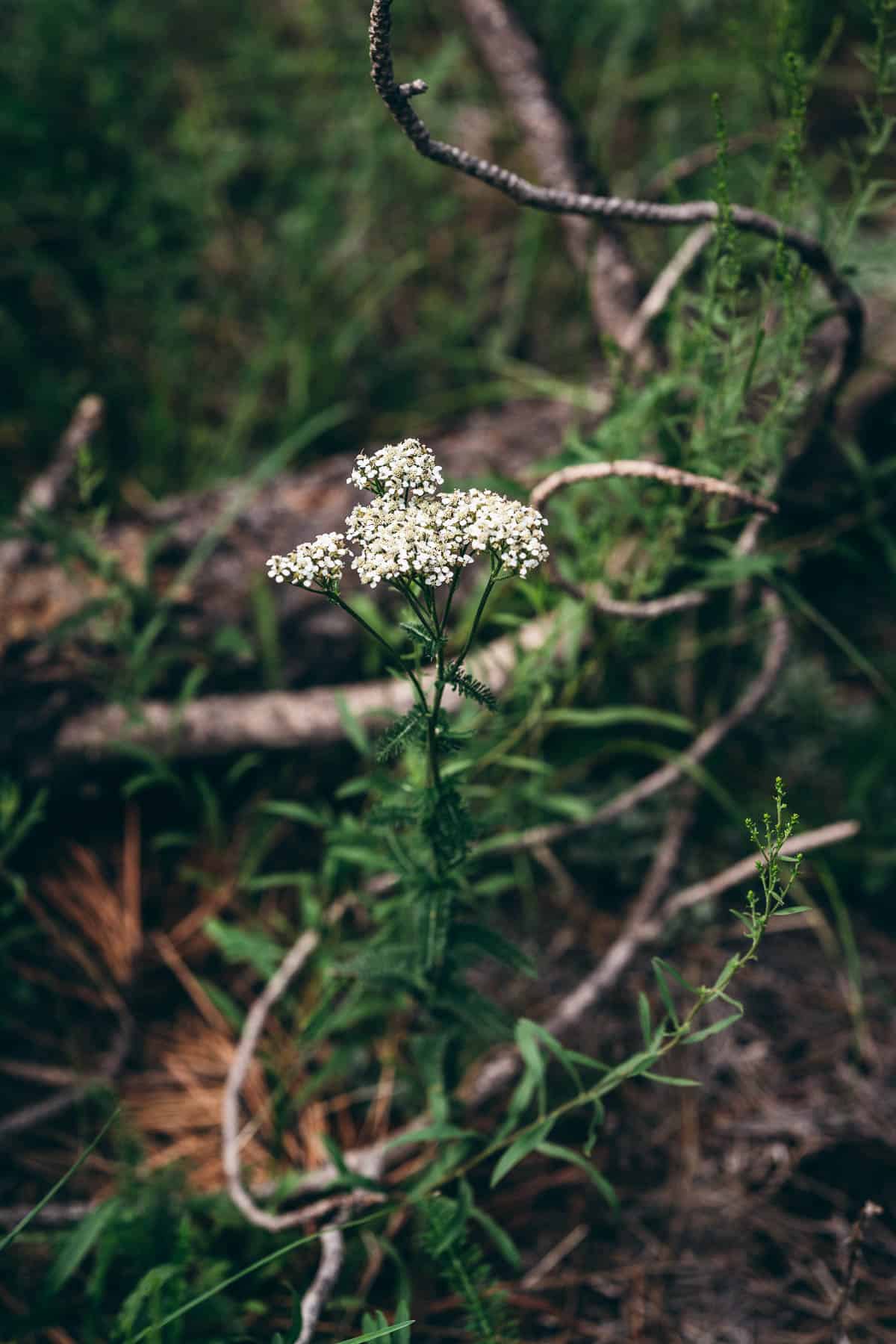 Folklore
Folklore venerates yarrow for its protective qualities - a reputation that probably originates from its being such a good companion plant and helping the plants around it thrive.
In England, mothers would tie up bundles of yarrow near a child's cot in order to ensure that the child grew up healthy. Yarrow was also believed to provide protection against changelings and witches.
In Greek mythology, the yarrow plant gave the mighty Achilles his invulnerability when he bathed in waters where it grew.
There is also a widely held belief that holding up the feathered leaves to the eyes, or rubbing them on the eyelids, would allow second sight and communication with spirits.
Identifying Yarrow
Yarrow is similar in appearance to poison hemlock, which is incredibly toxic, so it's vital to be confident when working out how to identify yarrow. If you're at all unsure, do not touch it! It's also easy to confuse with Queen Anne's lace. However, when identifying yarrow, there are a few defining features you can look out for:
Yarrow has frilly leaves that look a little like feathers. These are unique to yarrow and are an excellent way to distinguish it from other plants. The leaves grow in a spiral pattern up the stem, getting smaller the further up they are.
The whole plant is covered in tiny hairs and has a relatively 'furry' appearance.
The yarrow plant stands at around 2-3 feet when it is mature.
Yarrow is topped with a flat-topped cluster of tiny flowers, usually white or pink, although some cultivated yarrow plants can be yellow, orange or red.
When you crush yarrow leaves, you will notice they smell a lot like pine needles.
Foraging for Yarrow
When foraging for yarrow, it's best to work in the springtime if you can when the plant has just begun to flower, as this is when it is the most potent. However, you can harvest the leaves all year round. All parts of the yarrow plant have medicinal purposes.
How to harvest yarrow:
Use a sharp knife to cut the yarrow plant just above the base, careful not to damage the leaves.
Separate the leaves and flowers.
You can dry the yarrow to use later or use it fresh.
To dry the yarrow, spread out the leaves and flowers on a cookie sheet and put them in the oven at a low temperature. Alternatively, you can use a dehydrator.
Yarrow Benefits
There are a lot of yarrow benefits! It's believed to have anti-inflammatory and anti-bacterial properties, which means that it's helpful for healing. In addition, yarrow is a great helper to the digestive system, and it can be beneficial for healthy blood flow.
Yarrow Uses
Yarrow has potent astringent properties, which means that it's excellent for healing swelling and bruising. Apply a poultice made from yarrow leaves to bruised areas or soak a cloth in cooled tea made from yarrow flowers.
The astringent properties of yarrow are also helpful for keeping your skin fresh and free from blemishes. Applying cooled yarrow tea to the skin will help clean and tighten your pores - if you have problems with blemishes or acne, you could try combining yarrow with a bit of witch hazel.
Historically, soldiers used yarrow leaves to stop blood flow from wounds. It even earned the name herba militaris as a result. Grind dried yarrow leaves into a powder and use them to staunch bleeding.
Taking a warm bath with yarrow can help to bring fevers down.
Oil infused with yarrow leaves and flowers is excellent for soothing irritated skin.
Tea made by steeping yarrow flowers or leaves in warm water can help settle upset stomachs.
You can use tinctures made from yarrow to alleviate menstrual cramps.
Yarrow promotes healthy blood flow, which makes it an excellent ally in the treatment of varicose veins. Try spraying some of your yarrow tinctures onto varicose veins to help get the blood moving and tone up the skin. It's even more effective if you combine it with witch hazel.
Yarrow tea may help people who have trouble with high blood pressure.
The anti-inflammatory and antiseptic properties of yarrow leaves mean that chewing on fresh yarrow leaves can help if you have a toothache.
Yarrow DIY and Recipes
Make yarrow infused oil that you can use to treat skin irritation, cuts, bruises and blemishes.
Fun Fact
Yarrow's healing properties don't just work on humans; it's also an excellent companion plant. When planted next to something that is sick or dying, yarrow's ability to balance the soil PH, deter pests and remove damaging minerals from the soil mean that it can often bring about a recovery.
Takeaways
Yarrow's healing properties make it a valuable plant to forage. As you can see, you can use yarrow in many ways to promote good health and healing. It's also an excellent plant to cultivate in your garden, as its healing properties will benefit everything else around it!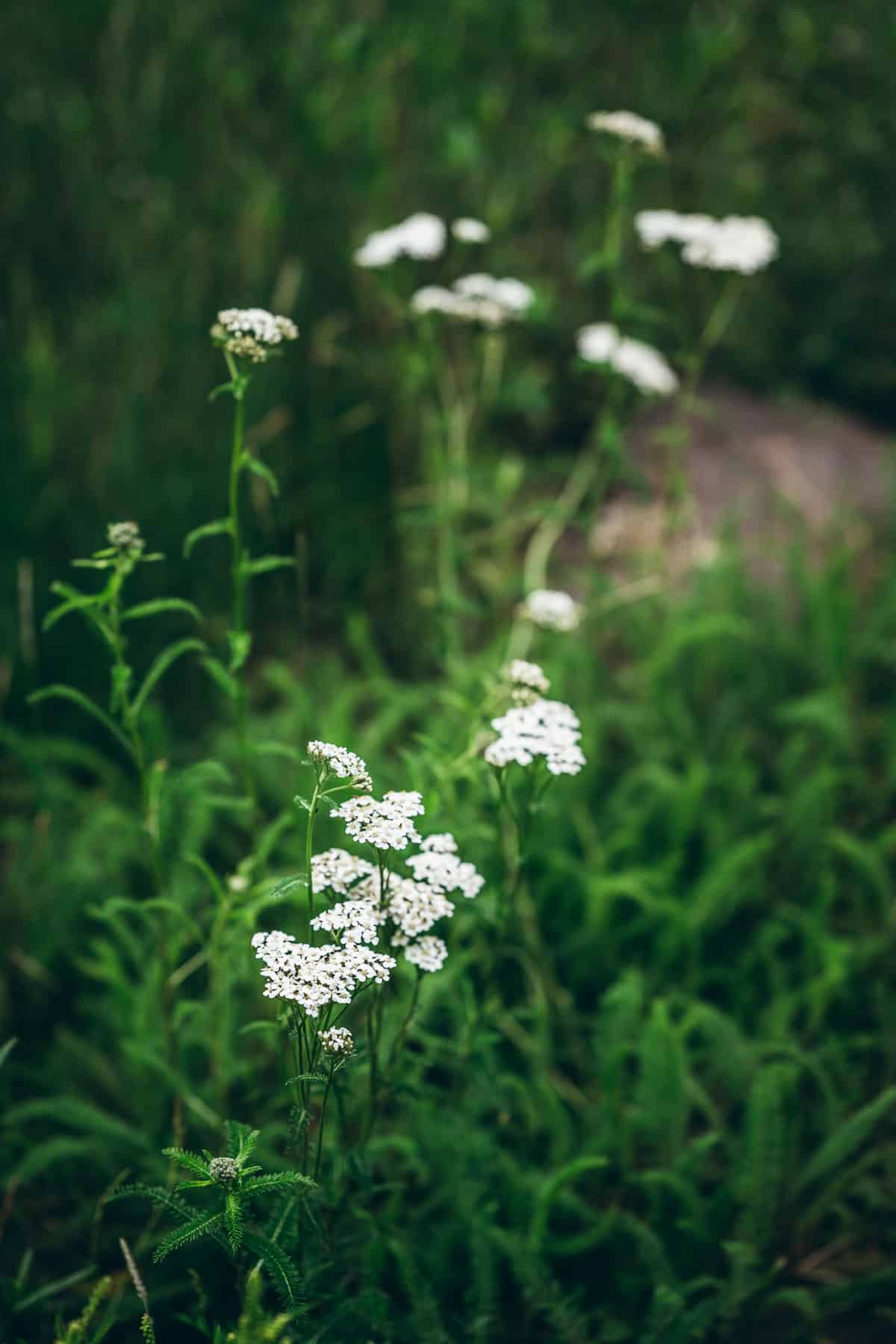 You Might Also Like