With an uplifting rosemary and mint scent and completely natural, this DIY shampoo bar recipe helps revitalize your hair. Made with only five ingredients and completely lye-free, this shampoo bar helps strengthen hair follicles and curb hair loss.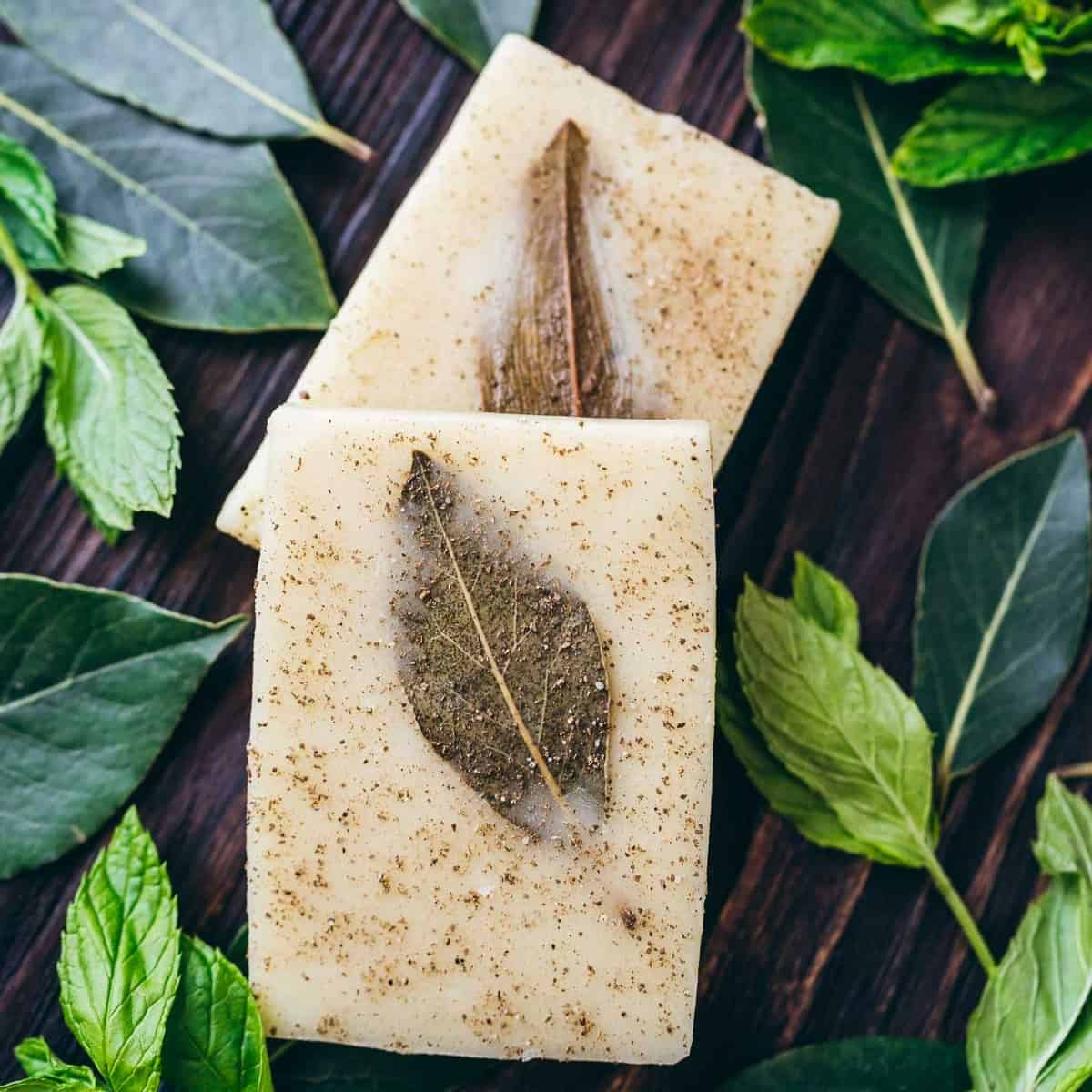 Jump to:
If you've never used a shampoo bar you're missing out!
Homemade shampoo bars are great for both the environment and your hair. Made with all-natural ingredients these bars help keep your hair silky.
Since a DIY shampoo bar doesn't use harsh chemicals or synthetic ingredients to coat your hair, shampoo bars are a great way to let your natural silky locks shine.
Though you do need to infuse a carrier oil ahead of time for this shampoo bar recipe, the result is worth the wait.
The herb-infused oil helps hair grow healthily and stay protected.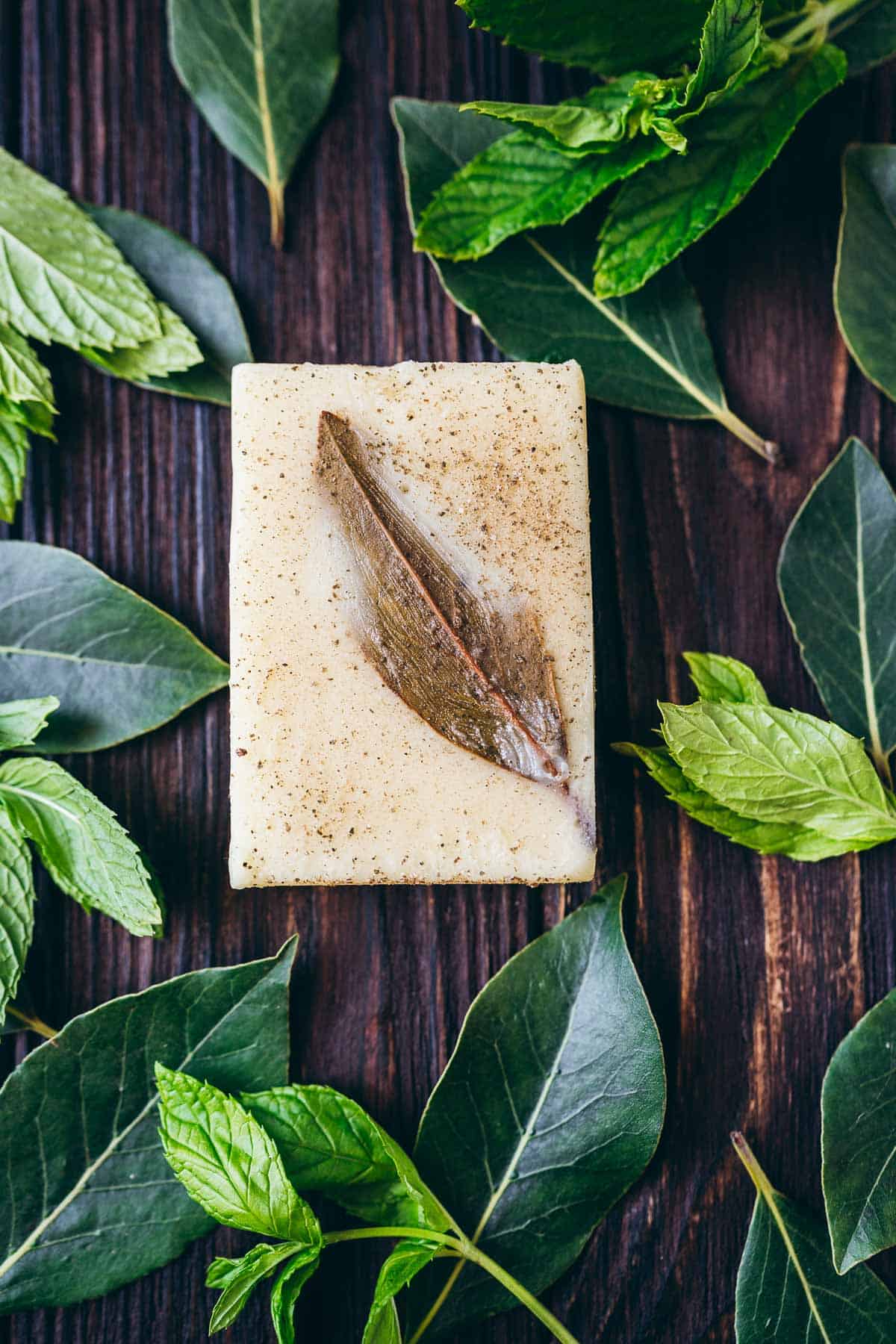 What Is a Shampoo Bar?
A shampoo bar is exactly what it sounds like: shampoo in bar form. Similar to hand soap shampoo bars are solid bars of shampoo.
These bars are normally less abrasive on your hair and help nourish your scalp as well as your locks.
Homemade shampoo bars are easy to make and customize and can cleanse your hair with minimal ingredients.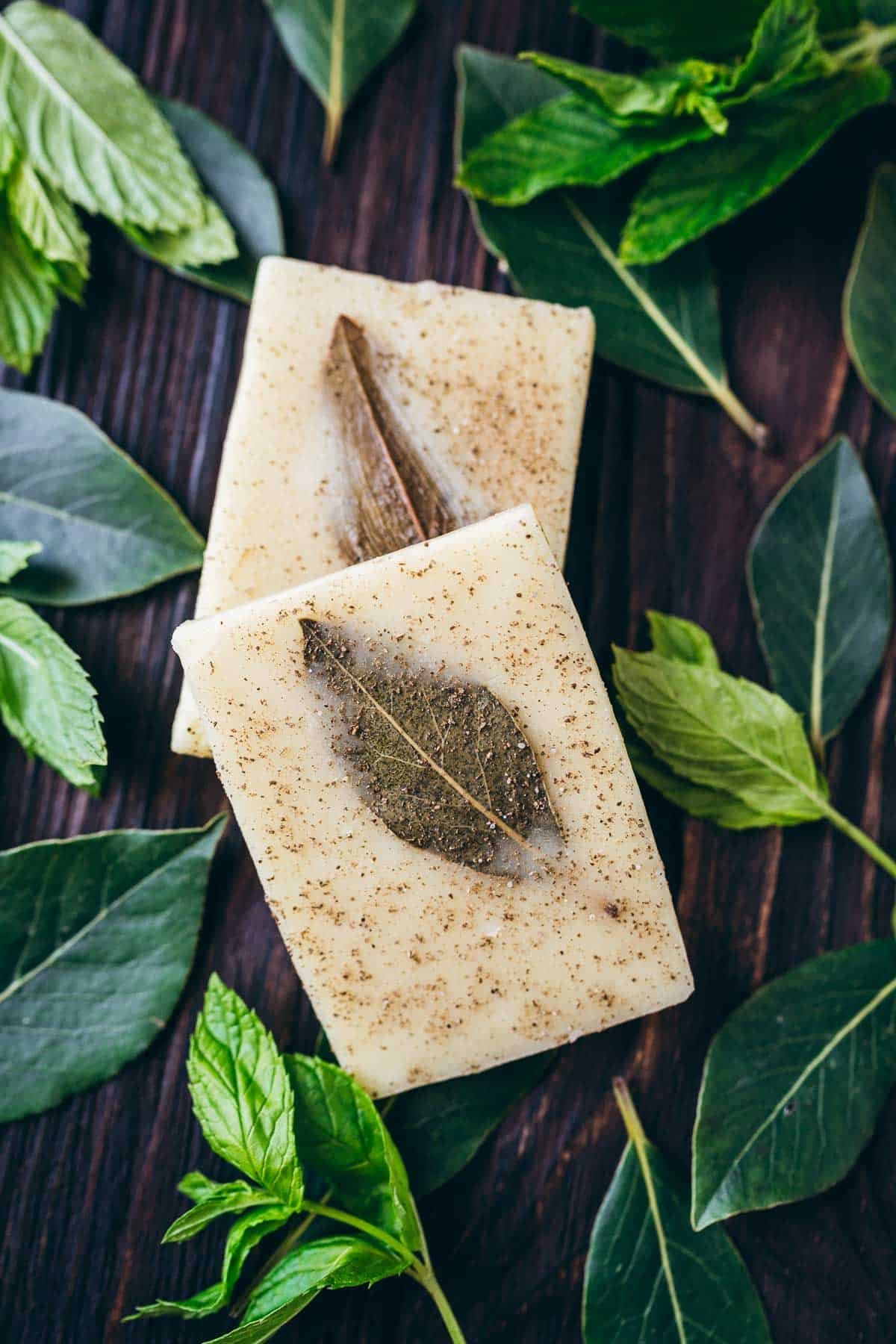 Why You'll Love This Recipe
Easy to make: this shampoo bar recipe without lye has only five main ingredients so it's easy to whip up.
All-natural: no lye or harsh chemicals in this recipe which is great for your hair.
Infused scent: though the shampoo bar does call for essential oils, its base is an infused carrier oil with rosemary and mint. Both herbs are great for helping to stimulate hair growth and improving scalp health.
Easy storage: shampoo bars take up much less room in the bathroom and they last longer!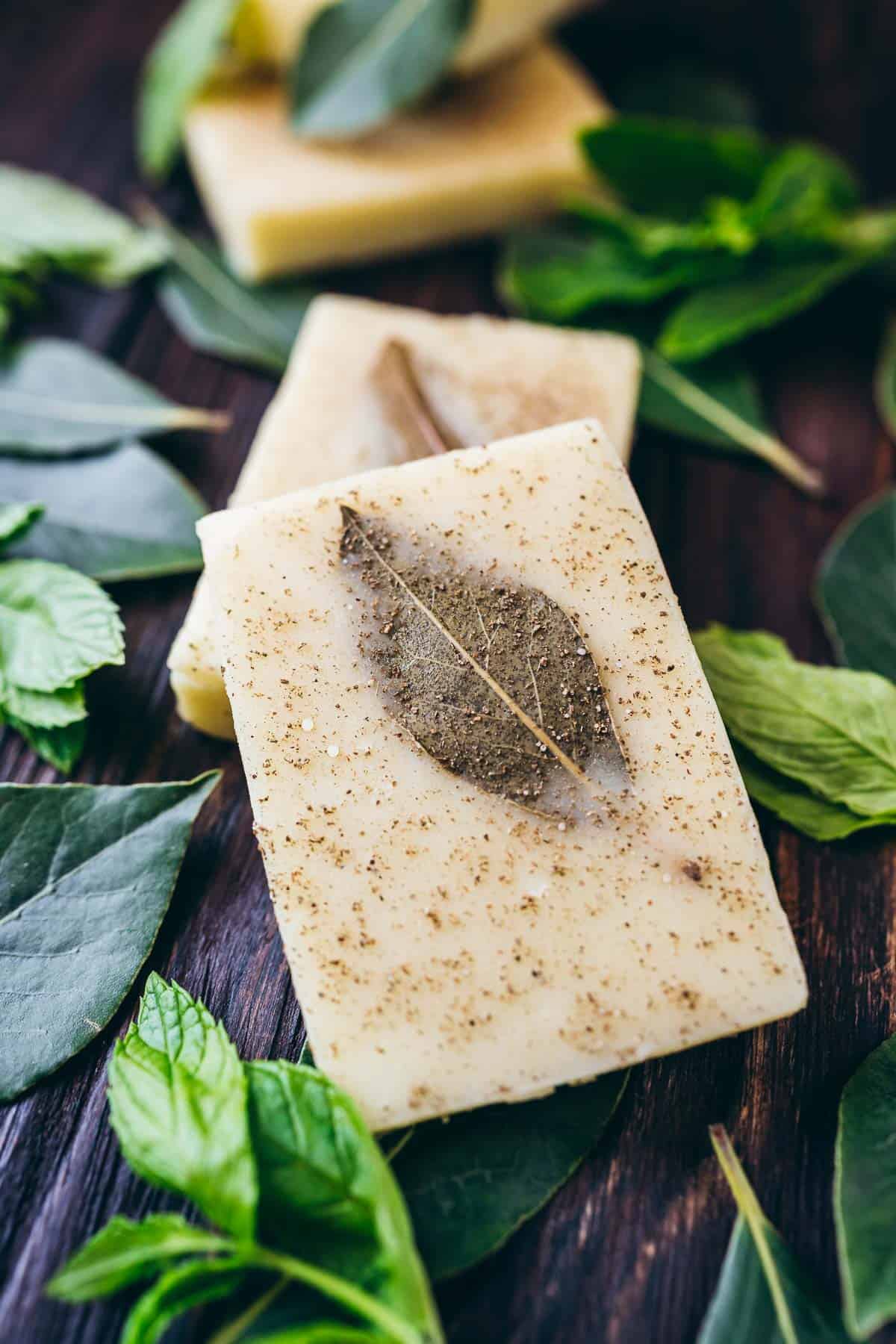 Ingredient Notes
Infused oil: Any carrier oil will work to make the infused oil. I like to use jojoba oil or sweet almond oil. You'll be adding dried rosemary, mint, and bay leaves for maximum shine, and acts as a conditioner for your hair.
Coconut oil: This helps nourish and moisturize your hair as well as improve the texture of the shampoo bar.
Mango butter: This butter contains vitamins E and A which are wonderful for your scalp. As a firmer butter, it's a great choice for a shampoo bar. Learn more about mango butter versus shea butter. Cocoa butter is another great choice.
Beeswax: You need beeswax to hold everything together so that the bar is hard enough to lather between your hands.
Apple cider vinegar: Helps maintain the delicate balance of acidity needed in a hair wash, plus adds a touch of shine.
Essential oils: Essential oils are totally optional and more for aromatic effects than anything. If you're gifting these DIY shampoo bars to friends, customize the scent for each person.
How to Make Shampoo Bars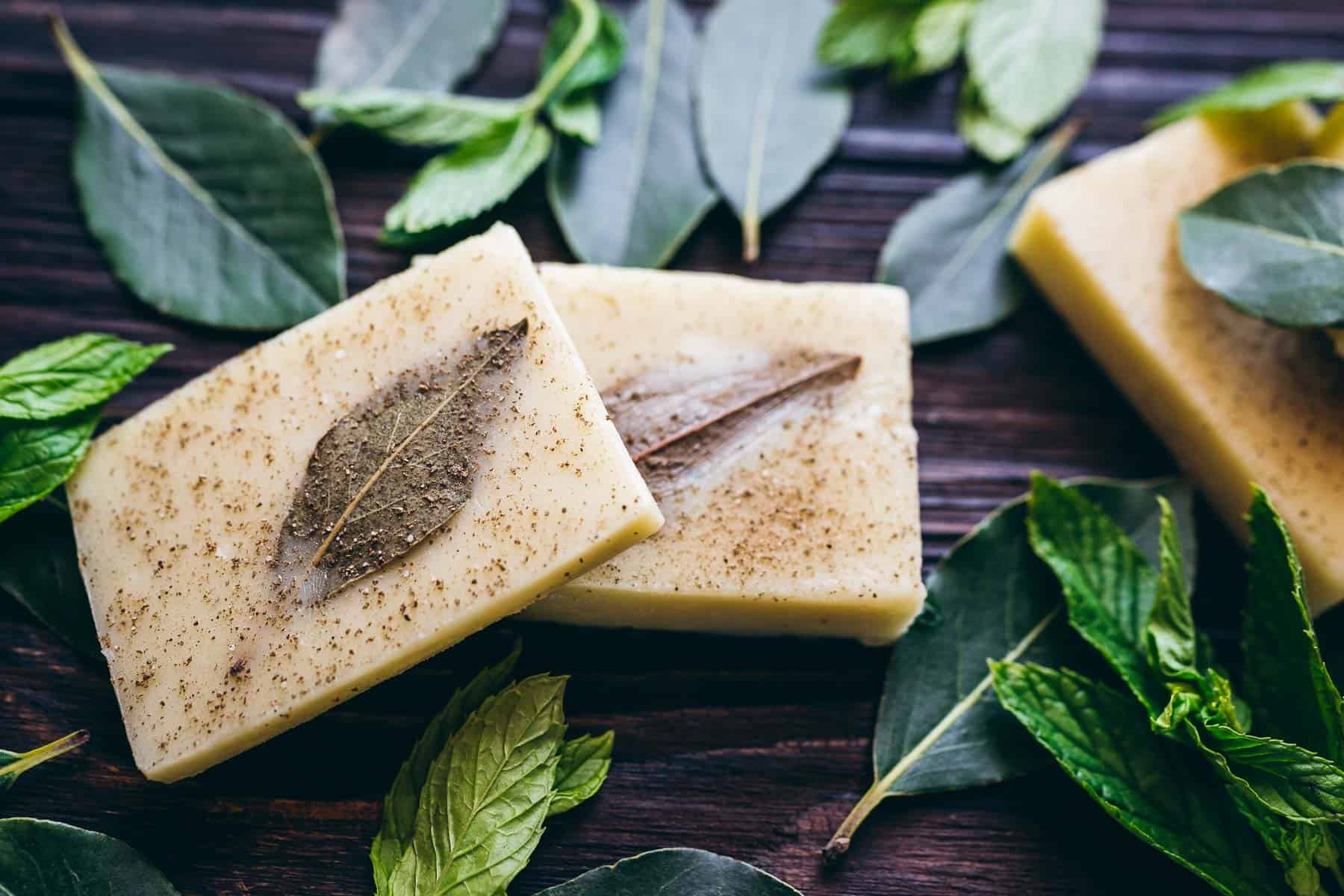 1. Combine the infused oil, coconut oil, mango butter, and beeswax in a double boiler.
2. Heat over low heat and gently stir until everything is melted. Remove from heat.
3. Add the vinegar and essential oils if using.
4. Pour the soap bar mixture into a silicone mold.
5. Sprinkle any decorations you want on top of the bars.
6. Allow them to cool for a few hours. This is where the bars will solidify.
7. Remove them from the molds and package them to store.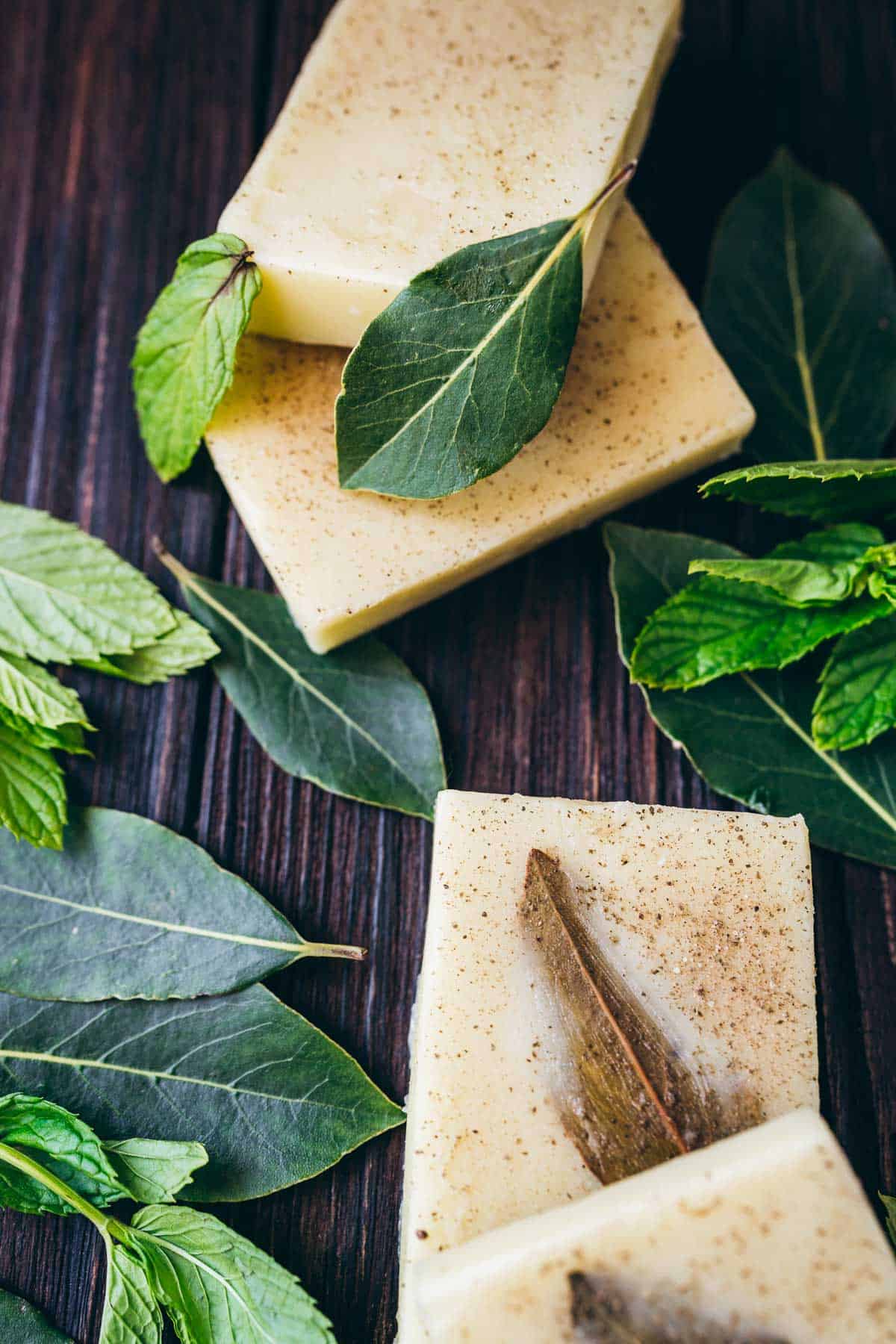 Top Tips
Don't overlook using an infused oil as it makes your hair so much softer.
Let the shampoo bars set and don't touch them for at least four hours. This is where they solidify. If you try to move them before that, you risk changing the shape of the bars,
If you're gifting the shampoo bars without lye, package them individually and store them in an airtight container with a label.
Silicone soap molds work best for making shampoo bars.
Store all shampoo bars in a sealed container in a dark place for up to six months.
How To Use a Shampoo Bar
Use a shampoo bar the same way you would use a regular bar of soap.
First, wet your hair.
Second, wet the shampoo bar and rub it between your hands for a minute.
Then, apply the lather in your hands t your hair and massage onto your scalp as you normally would.
Finally, rinse your hair fully.
Frequently Asked Questions
How do you make a shampoo bar without lye?
Making a lye-free shampoo bar is as easy as melting, mix,ing and pouring. You need to melt down your ingredients in a double boiler, mix in any additions or essential oils, and then pour into silicone molds to let harden overnight.
How long will a shampoo bar last?
It depends on the size of the shampoo bar. However, on average a homemade shampoo bar will last 60-80 washes.
What carrier oils are best for shampoo bars?
Any carrier oil can work in a DIY shampoo bar, and all have their own benefits. Sweet almond, jojoba, and apricot kernel oils are great for beginners to start with and the most common to shop for.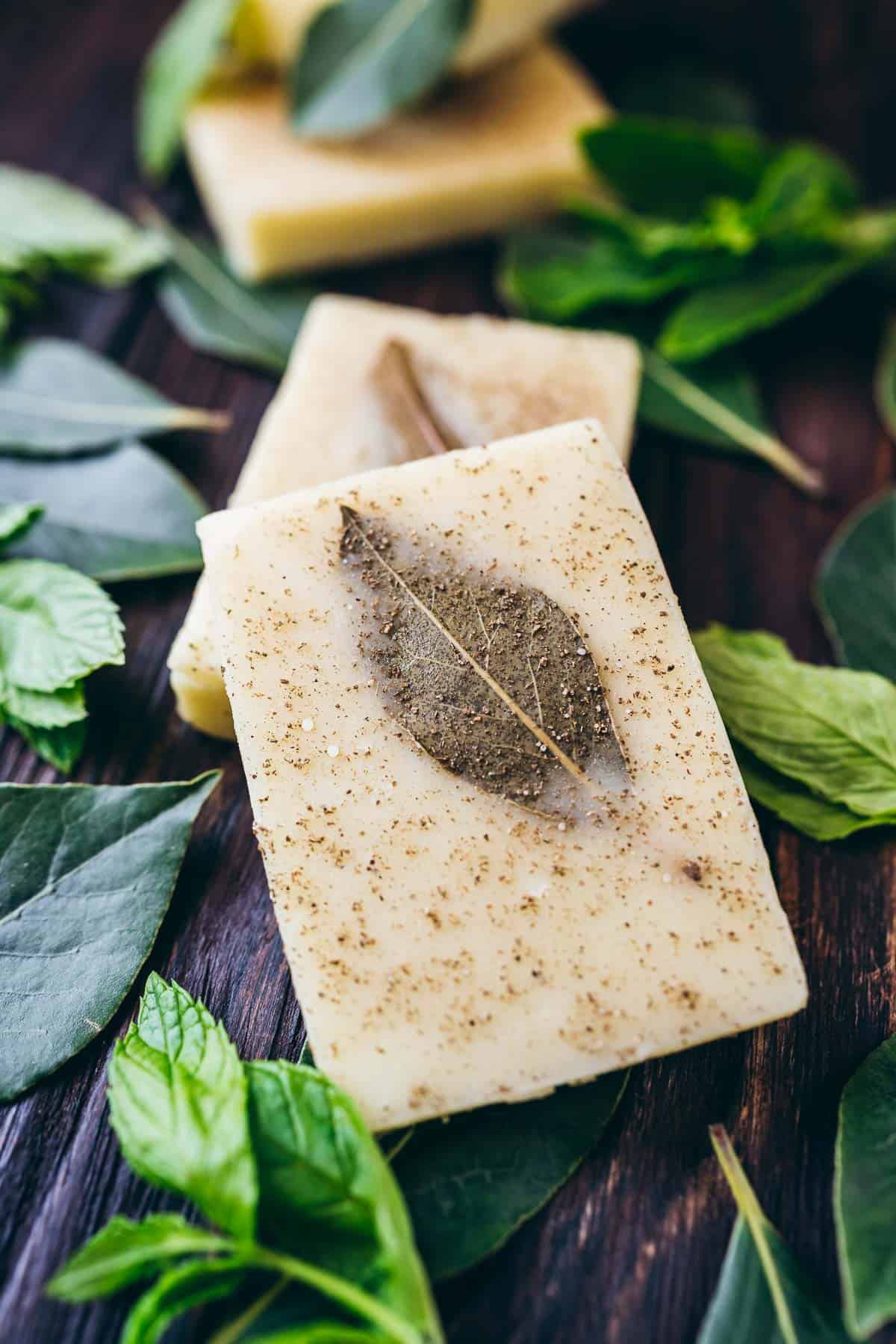 You Might Also Like These DIY Recipes
DIY Shampoo Bars without Lye
A fragrant blend of herbs, these DIY shampoo bars without lye are a natural way to nourish and moisturize dull locks. Made with only a few ingredients this bar is easy to make and perfect to gift!
Materials
Infused Oil
1

cup

carrier oil of choice

¼

cup

dried rosemary

2

tablespoons

dried mint

4

dried bay leaves
Shampoo Bars
⅔

cup

rosemary

mint, and bay infused oil

⅔

cup

coconut oil

refined or unrefined

⅔

cup

mango butter

½

cup

beeswax

pellets or grated

2

tablespoons

apple cider vinegar

20

drops essential oil of choice

for additional scent (optional)

½

teaspoon

ground bay leaves

for decoration (optional)
Instructions
Infused Oil
In a large glass jar, combine the oil, rosemary, mint and bay leaves.

Screw the lid on tightly and place the jar in a cool, dark place to infuse for 4 weeks.

Strain the oil from the plant material before moving on to the next step.
Shampoo Bars
In a double boiler over low heat, combine the infused oil, coconut oil, mango butter, and beeswax.

Stir gently until all is melted and smoothly combined. Turn off the heat.

Add the vinegar. If using essential oil or ground bay leaves, add them now.

Pour the mixture into the silicone molds of your choice.

All the bars to cool and solidify for at least a few hours.

Gently remove the bars from the molds and store them in an airtight container in a cool, dry place for up to 6 months.