Lavender is a lovely floral herb with many uses and benefits. Learn how to dry lavender to further preserve its scent, taste, and benefits with this helpful guide.
Lavender lovers rejoice! Drying lavender is a simple and rewarding process that allows you to preserve the beauty and fragrance of this popular herb. Whether you want to use it for culinary purposes, home decor, or herbal remedies, drying lavender is an essential skill for any lavender enthusiast. In this post, we will discuss the steps you need to take to dry lavender and offer some tips for ensuring that your dried lavender looks and smells its best.
Jump to:
What is Lavender?
Lavender is a flowering plant that belongs to the mint family. It is native to the Mediterranean region but is now widely cultivated throughout the world for its aromatic flowers and essential oils. Lavender is known for its calming and relaxing properties and is often used in aromatherapy, personal care products, and culinary applications. It is a versatile herb that can be used in many different ways and has a long history of use in traditional medicine and household remedies.
Types of Lavender
There are several types of lavender that are commonly cultivated and used for various purposes. English lavender (Lavandula angustifolia) is the most commonly grown type and is often used in perfumes, soaps, and essential oils. French lavender (Lavandula stoechas) has a more pungent fragrance and is often used in potpourri and sachets. Spanish lavender (Lavandula dentata) has a distinctive toothed leaf and is often used as an ornamental plant in gardens. There are also other varieties of lavender, such as lavandin (Lavandula x intermedia), which is a hybrid between English and French lavender and is commonly used in aromatherapy. Each type of lavender has its own unique fragrance and characteristics, making it a versatile herb that can be used in a variety of ways.
How to Dry Lavender
Step 1: Harvesting Lavender
The first step in drying lavender is to harvest it. The best time to harvest lavender is when the flowers are in full bloom, usually in mid to late summer. You should aim to harvest the flowers in the early hours after the morning dew has dried, but before the sun has fully risen.
To harvest lavender, use a pair of sharp scissors or pruning shears to cut the stems just above the leaves. You should aim to cut the stems to a length of around 30 cm (12 inches) to make them easier to handle during the drying process.
Step 2: Preparing Lavender for Drying
Once you have harvested your lavender plants, the next step is to prepare them for drying. Start by removing any leaves or lavender buds from the lavender stems, as these can make the drying process more difficult and may cause the lavender to become moldy.
Next, gather your lavender into small bundles, tying them tightly with a string or rubber band. You should aim to create lavender bundles that are no more than 2.5 cm (1 inch) thick, as thicker lavender bunches may not dry evenly.
Step 3: Drying Lavender
There are several different drying methods you can use to dry lavender, including air-drying, oven-drying, and using a dehydrator. Here are the steps for each method:
Air-Drying
Air-drying is the most traditional method of drying lavender, and it is also the easiest. To air-dry your lavender, hang the bundles upside down in a warm, dry, and well-ventilated area. A sunny windowsill or porch is a good spot for this.
Make sure to hang the bundles in a way that allows air to circulate freely around them. You can use a piece of string or a hanger to hang them. Depending on the humidity level in your area, it can take anywhere from a few days to a few weeks for the lavender to dry completely.
Oven-Drying
If you're working with a short time frame, you can use an oven to speed up the process. To oven-dry lavender, spread the bundles out on a baking sheet in a single layer, making sure not to overcrowd them. Preheat your oven to its lowest temperature setting (usually around 65°C or 150°F), and place the baking sheet inside.
Leave the lavender in the oven for around 20 minutes, then check on it to see if it is drying evenly. If not, rotate the baking sheet and continue to check on it every 10 minutes until it is fully dry. Be careful not to over-dry the lavender, as this can cause it to lose its fragrance.
Dehydrator
If you have a food dehydrator, you can also use it to dry your lavender. Simply spread the bundles out on the dehydrator trays, making sure to leave some space between them for air to circulate. Set the dehydrator to its lowest temperature setting and let it run for several hours until the lavender is dry and crisp.
Step 4: Storing Dried Lavender
Once your lavender is fully dry, it is time to store it. The best way to store dried lavender is in an airtight container, such as a glass jar, in a cool dark place. Make sure to label the container with the date of harvest and the type of lavender, as different varieties may have slightly different fragrances.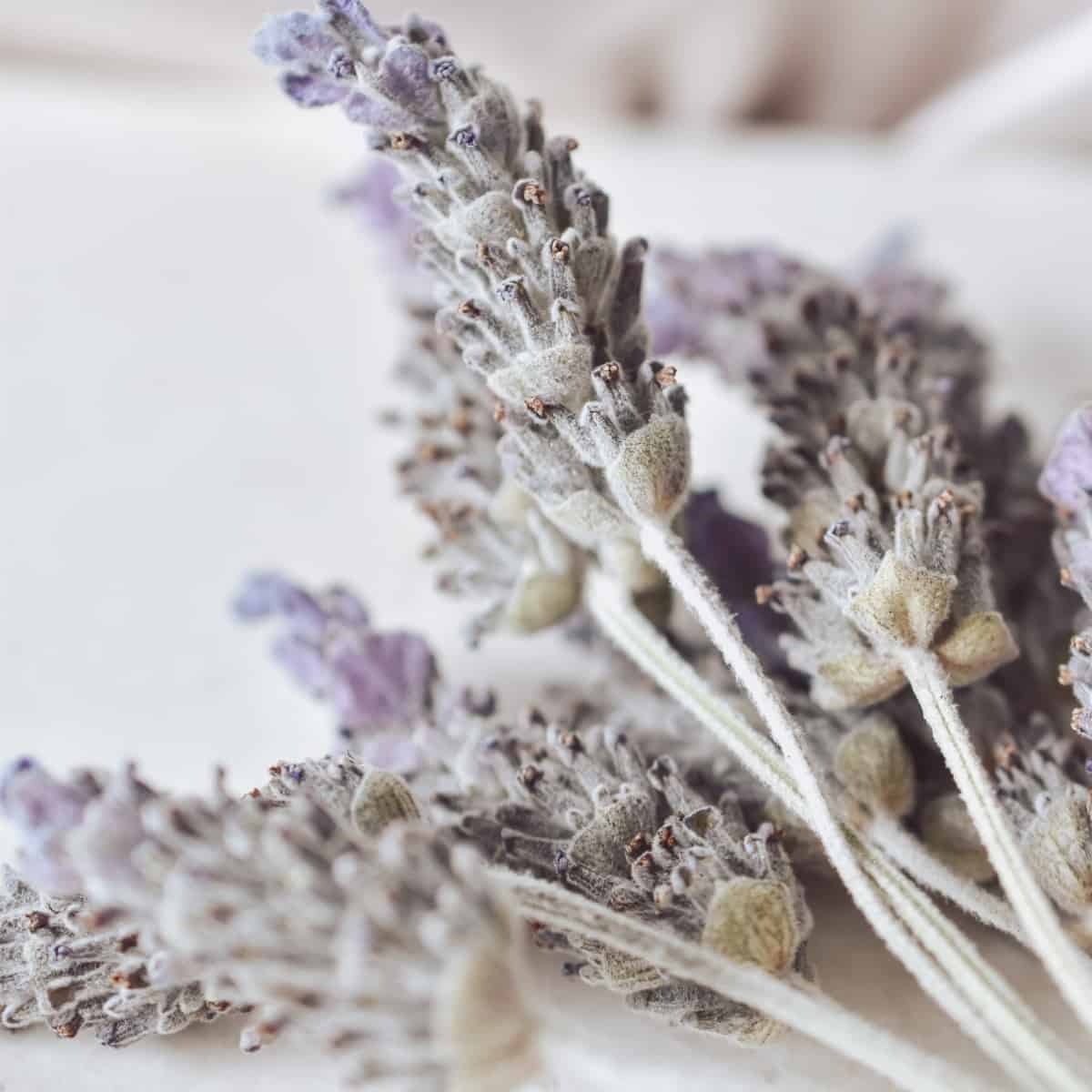 Using Dried Lavender
Wondering what to do with all that lavender your dried? Dried lavender can be used as culinary lavender in treats such as ice cream, simple syrup, or lemonade, savory dishes like potatoes or soup, or incorporated into facial care products like lavender water, aromatherapeutic lavender sachets, decorative floral bouquets, and so much more. Check out my guide on what to do with dried lavender.
How Do You Keep Dried Lavender Fragrant?
To keep the amazing scent of dried lavender fragrant for as long as possible, it's important to store it properly. Here are some tips to help you keep the scent of lavender lingering as long as possible:
Store in an airtight container: Dried lavender should be stored in an airtight container, such as a glass jar or a plastic container with a tight-fitting lid. This will help prevent the fragrance from dissipating over time and protect the lavender from moisture, which can cause it to mold or lose its aroma.
Store in a cool, dark place: Lavender should be stored in a cool, dark place, such as a pantry or cupboard, away from direct sunlight and heat. Exposure to light and heat can cause the fragrance to fade and reduce the quality of the lavender.
Add essential oil: You can refresh the fragrance of your dried lavender by adding a few drops of lavender essential oil to the container. Simply add a few drops to the dried lavender and gently mix it in to distribute the oil evenly. Be careful not to add too much oil, as this can make the lavender too strong.
Store with other aromatic herbs: You can also store your dried lavender with other aromatic herbs, such as rosemary or thyme, to help keep the fragrance fresh. This will also infuse the lavender with the fragrance of the other herbs, creating a lovely blend of scents.
Replace regularly: While dried lavender can last for a year or more when stored properly, its fragrance will start to fade over time. To keep your lavender smelling fresh, it's best to replace it every few months, or as soon as you notice that the fragrance is starting to fade.
Frequently Asked Questions
How long will dried lavender last?
Dried lavender can last for a long time if stored properly. When dried and stored in an airtight container in a cool, dark place, such as a pantry or cupboard, dried lavender can last for up to a year or more. However, the fragrance and flavor of the lavender may start to fade over time, so it's best to use it within a few months for the best results. It's also important to check the lavender periodically to make sure it hasn't developed any mold or moisture, which can reduce its shelf life and quality.
Should I wash lavender before drying?
It is not recommended to wash lavender before drying it, as moisture can cause the flowers to mold or rot during the drying process. Instead, it's best to simply shake off any dirt or debris from the flowers, or gently brush them with a soft-bristled brush to remove any dust. If you must wash the lavender, it is important to thoroughly pat the flowers dry with a clean towel and allow them to air dry completely before proceeding with the drying process. However, in general, it is best to avoid washing the lavender altogether and simply focus on removing any visible dirt or debris before drying.



Conclusion
Drying lavender is a simple and rewarding process that allows you to preserve the beauty and fragrance of this versatile herb. Whether you use it for culinary, medicinal, or decorative purposes, dried lavender is sure to add a touch of elegance to your home and a sense of calm to your life. So next time you find yourself with a surplus of fresh lavender, try drying it and see all the ways you can use it.