With anti-inflammatory and antimicrobial properties this healing juniper berry salve is a wonderful addition to any home. Silky and smooth this salve is perfect for minor cuts, irritations, and general harsh weather.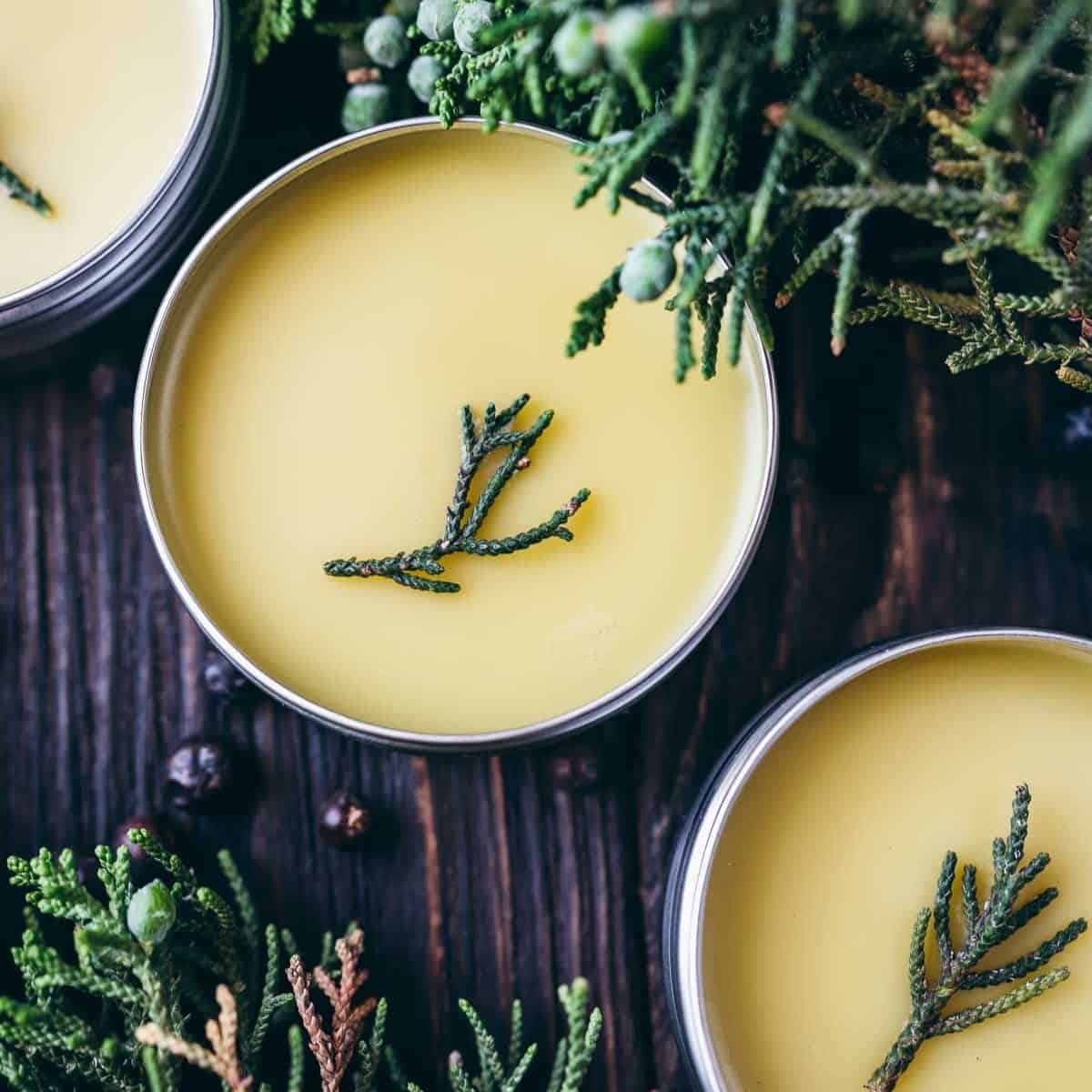 Jump to:
If you're looking to stock your cupboard with more natural remedies, this healing juniper berry salve is one you'll want to include.
Made with only three ingredients this salve infuses crushed juniper berries in a carrier oil to reap their soothing skincare benefits.
This DIY salve helps moisturize your skin in addition to supporting aches, muscle pain, and inflammation.
Simple to make and even more wonderful to gift!
Here in Arizona, there's certainly not a shortage of juniper berry trees and this is certainly one of my favorite ways to put these unique berries to use. Enjoy!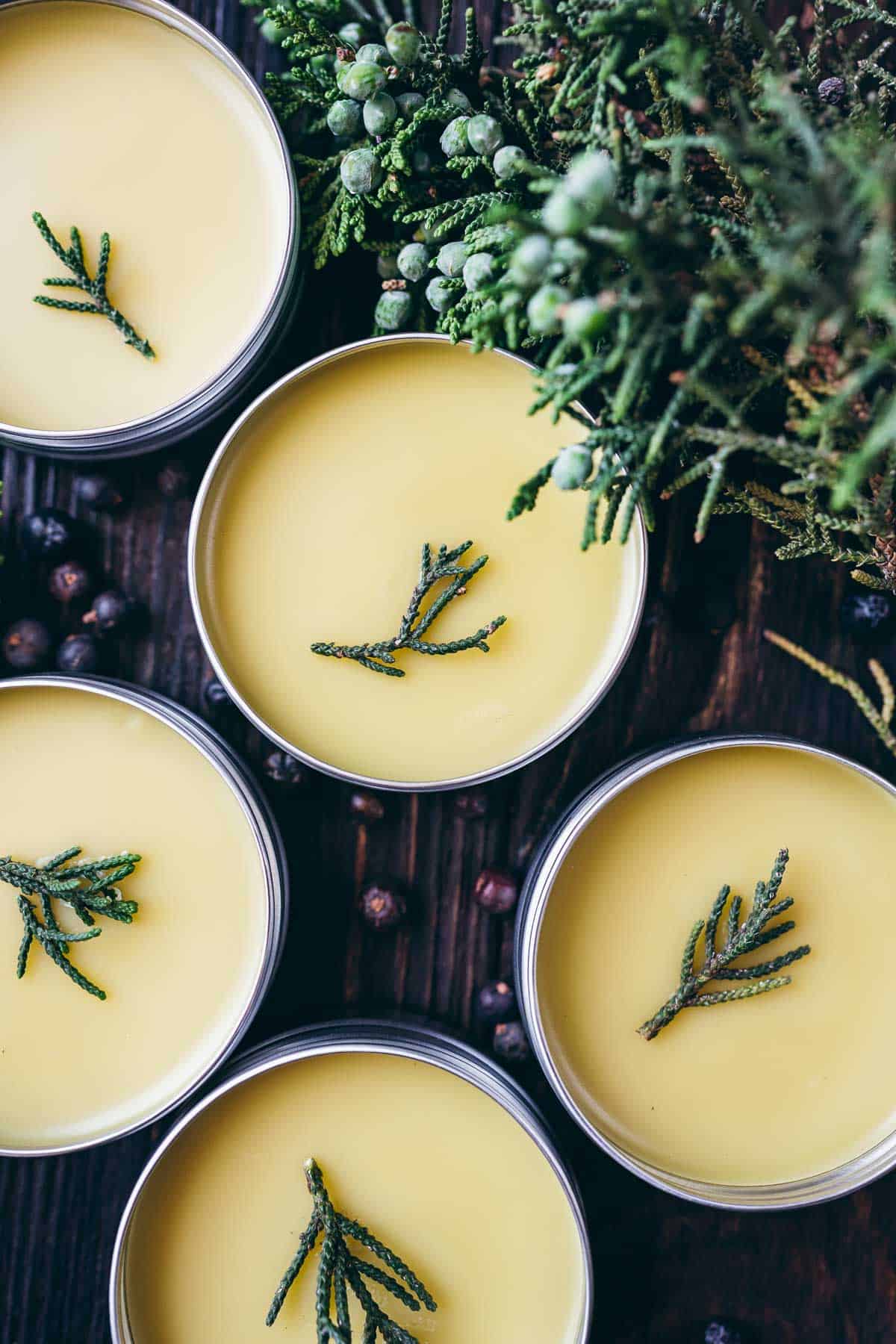 What Are Juniper Berries?
Juniper berries are not a true berry but instead a seed cone. The cones come from a handful of evergreen tree species that are most commonly used in cooking.
However, they were also used traditionally for their antiseptic properties and anti-inflammatory effects. They've been said to help with everything from digestive issues to muscle aches and more which is why they are wonderful in a homemade salve.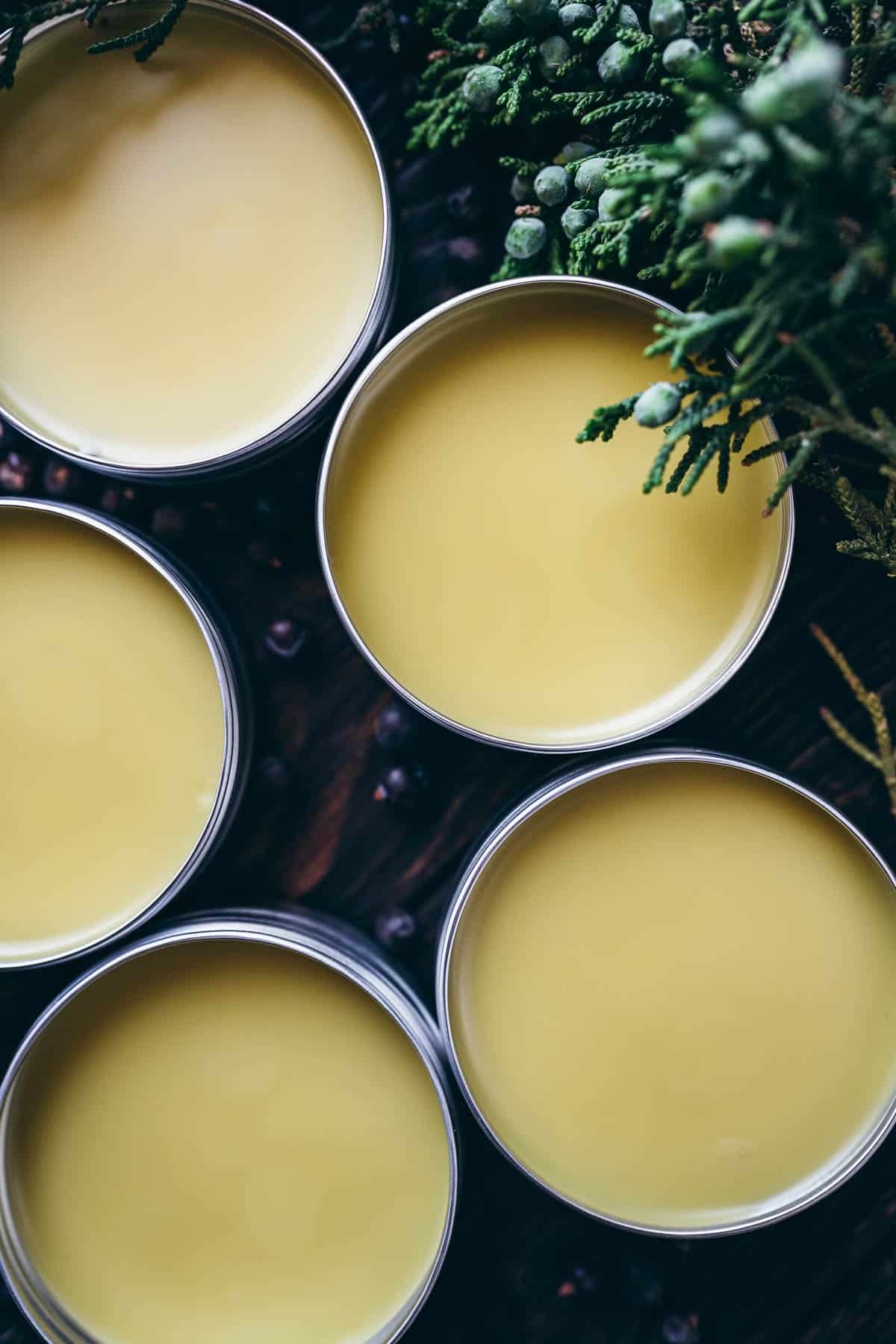 Why You'll Love This Recipe
Easy to make: Only three ingredients are needed to make this soothing salve.
Healing: This salve can be used on minor cuts, irritations, sore joints, and more.
Shelf life: Juniper berry salve can be stored for up to a year.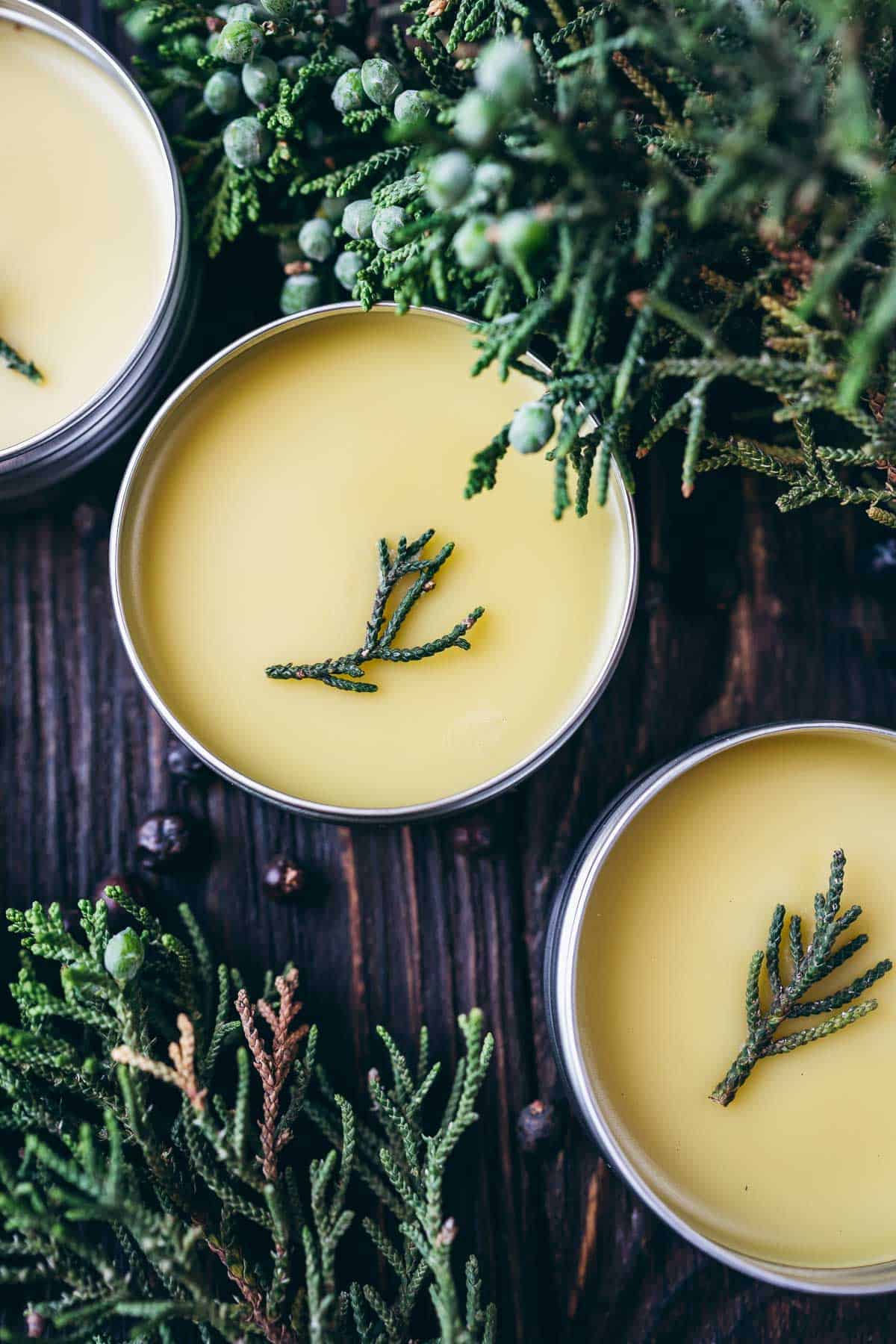 Ingredients You Need
Carrier oil: Any carrier oil will work to infuse the juniper berries. Some of my favorites to use include sweet almond oil, jojoba oil, and olive oil.
Dried juniper berries: Though you can forage the wild juniper berries from juniper trees and dry them yourself, opting to buy dried whole juniper berries makes this DIY recipe a faster process. Know that you only need the berries and not the needles. I use a mortar and pestle to crush them lightly before infusing them in oil.
Beeswax: This is what holds this delicately fragrant salve together, firms it up, and prepares it for topical use. Both yellow and white beeswax will work here. Opt for the pellets as they're easier to measure and work with.
How to Make Juniper Berry Salve
To make homemade juniper berry salve you need to make juniper berry infused oil. There are two ways to do this depending on the time you have.
Short Infuse Method:
1.       Add the juniper berries and the carrier oil to a double boiler.
2.       Heat it on low for 4 hours.
3.       Strain and discard the berries, saving the juniper berry oil.
Long Infuse Method
1. Place the carrier oil and juniper berries into a glass jar and tightly screw the lid on.
2. Shake it to combine.
3. Place the jar in a cool dark place for 4 weeks.
4. Strain and discard the berries, saving the juniper oil.
Making the DIY Salve
1. Combine the infused oil and the beeswax in a double boiler over low heat.
2.       Let everything melt together while stirring frequently.
3. When the beeswax is fully melted, pour the juniper berry salve into tins and let them cool for at least 2 hours.
Expert Tips
Make sure to crush the juniper berries before making the infused oil. This helps them release all their compounds and everything you need to reap their healing properties.
If you're doing the long infuse method, try to shake the jar gently once a day or so.
Make sure to heat the ingredients over low in the double boiler so that you don't damage them.
Let the salve cool for at least two hours without touching it. This way it can be set fully.
Store the healing juniper berry salve in a cool dark place for up to one year.
This salve has a gentle scent on its own, but if you want to further enhance it, you can add a few drops of juniper essential oil or any other scent you prefer.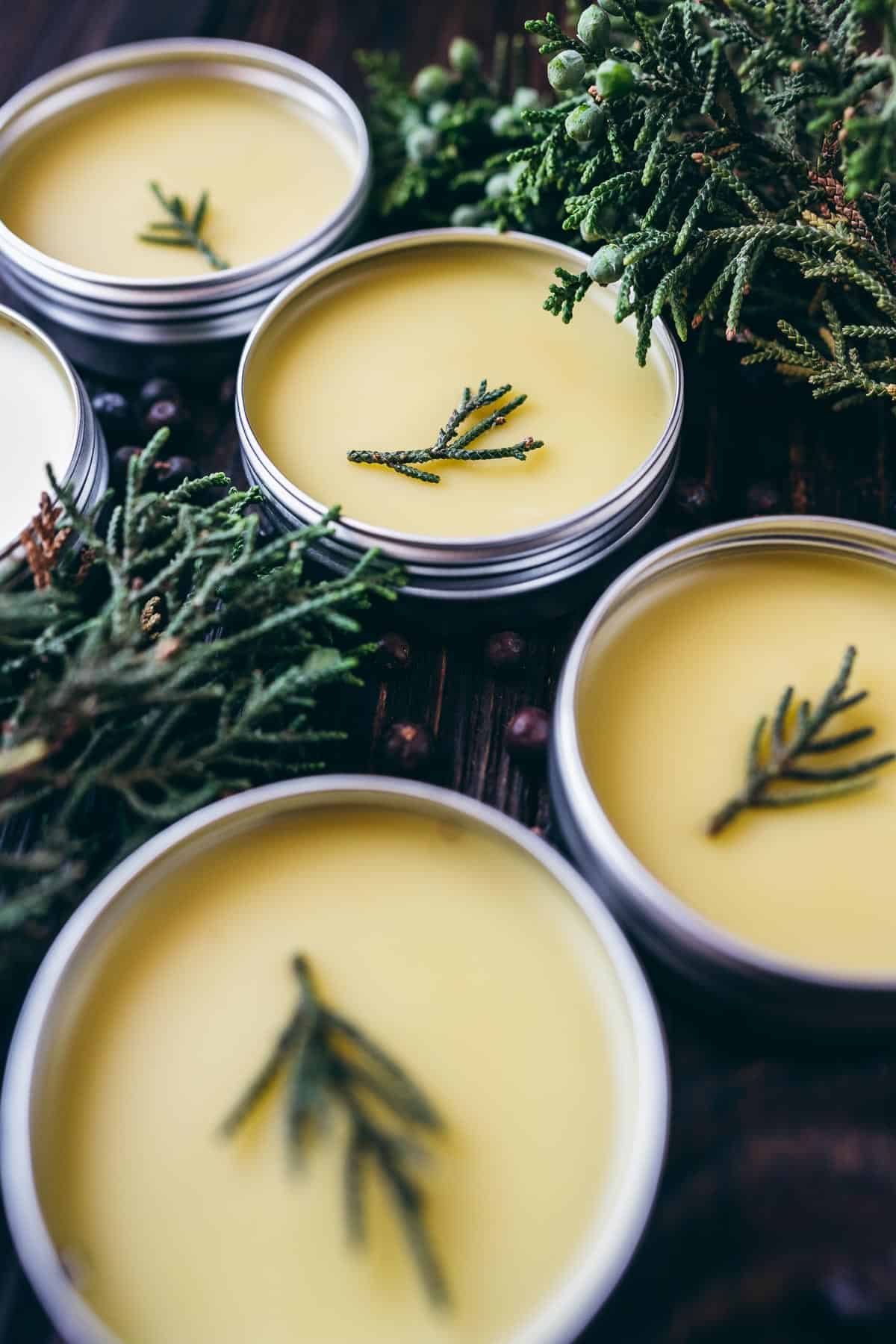 How to Use Juniper Berry Salve
Use your fingertips to scoop out a small portion of the salve (a little goes a long way).
Gently rub the salve onto the desired area taking care to massage it in lightly.
Make sure that your hand is clean and dry before dipping it into the salve. If water gets into the tin, it will go bad sooner.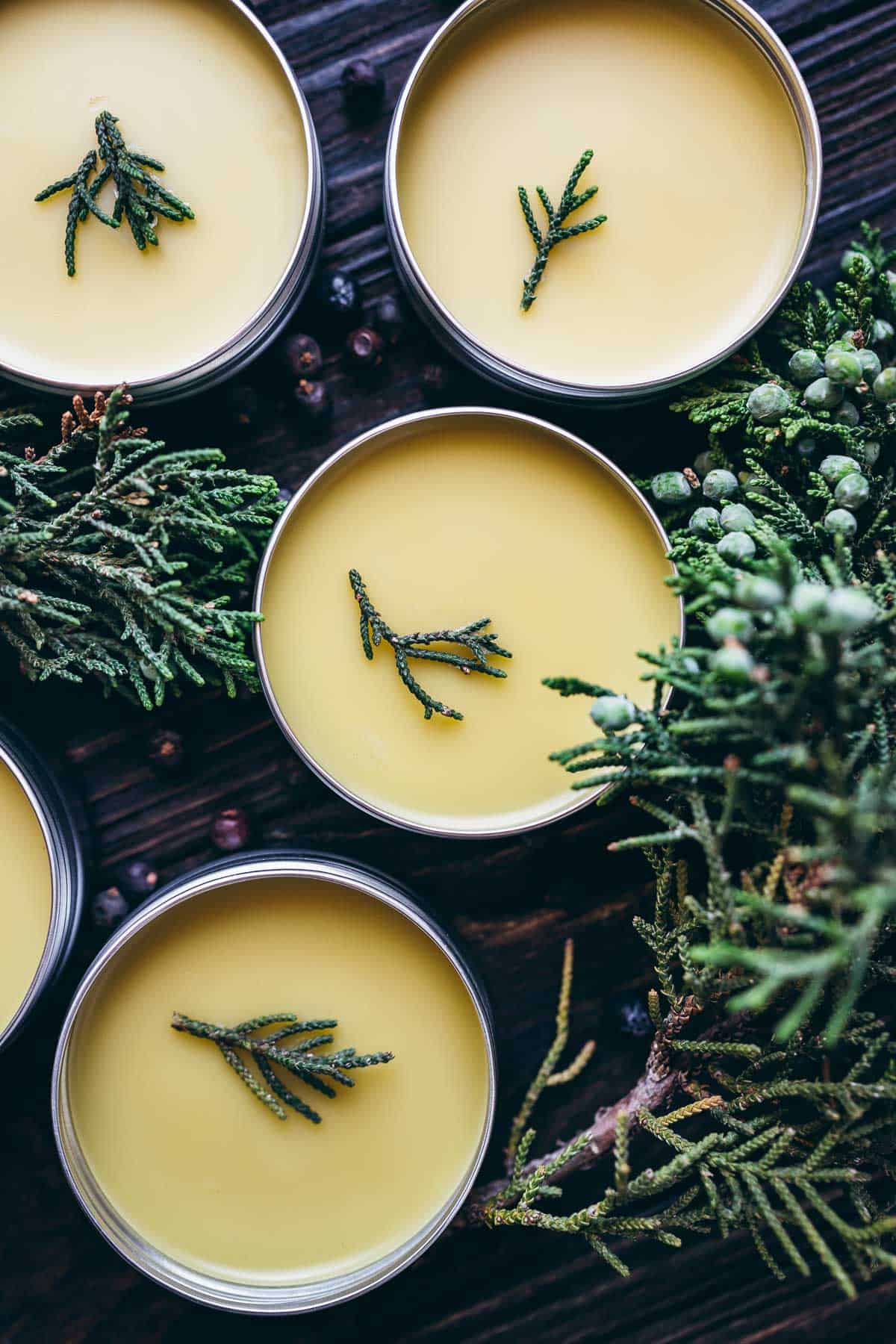 Frequently Asked Questions
What is juniper berry salve used for?
Juniper berry salve can be used for a variety of topical purposes. Use it to relieve sore joints and muscles, minor cuts, or general inflammation. Rub a tiny bit gently on the skin in a circular motion.
What oil is best for a homemade salve?
Any carrier oil should work for homemade salve. The most common ones are fractioned coconut oil, apricot kernel oil, jojoba oil, and sweet almond oil. All with their own benefits and properties.
What's the difference between a balm and a salve?
DIY salves tend to be a bit thinner and easier to spread and work into the skin. They're commonly used to treat specific conditions and with a purpose. Homemade balms are thicker, waxier, and great for sealing in moisture. Balms act as a wonderful barrier for your skin against the natural elements.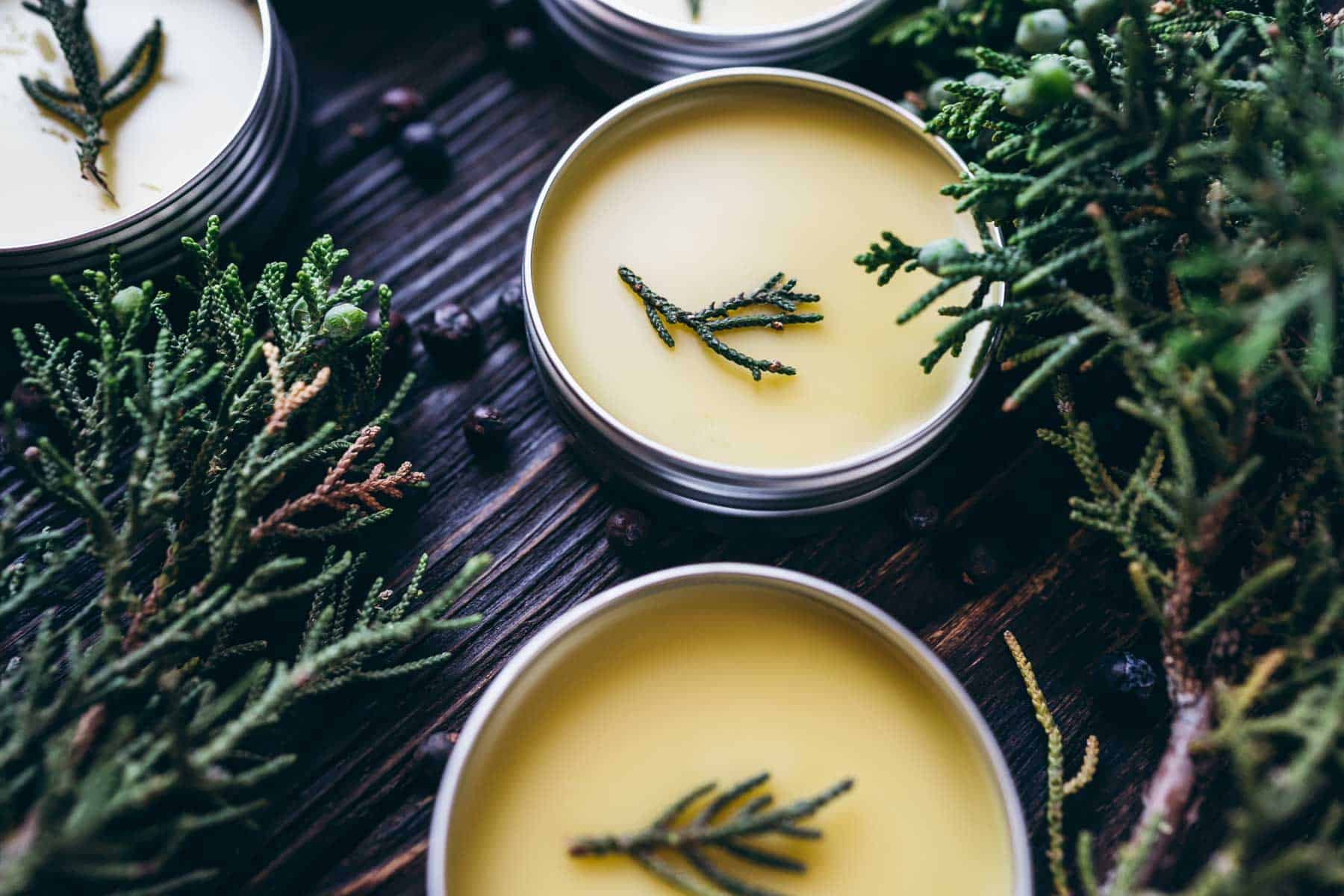 You Might Also Like These Salve Recipes
Juniper Berry Salve
An easy, healing juniper berry salve to soothe inflammation. This DIY salve uses only 3 ingredients and is the perfect addition to any medicine cupboard.
Materials
Infused Oil
1

cup

carrier oil of choice

2

tablespoons

dried juniper berries

crushed
Salve
1

cup

juniper berry infused oil

¼

cup

beeswax

pellets or grated
Instructions
Infused Oil
Method 1: Add the oil and juniper berries to a double boiler over low heat for 4 hours. Strain the oil from the berries before moving on to step 2.

Method 2: Place the oil and berries into a glass jar, screw the lid on tightly and place the jar in a cool, dark place to infuse for 4 weeks. Strain the berries before moving on to step 2.
Salve
Combine the juniper berry infused oil and the beeswax in a double boiler over low heat.

Gently stir until all is melted and combined, about 5 minutes.

Pour the salve mixture into metal salve tins and allow them to cool until fully set and solid, at least 2 hours.

Store the tins in a cool, dry place for up to one year.