Stimulate circulation and soothe your feet with this easy, four-ingredient homemade foot soak! Made with a base of Epsom salt and sprinkled with dry herbs to help repair your feet and ease tension.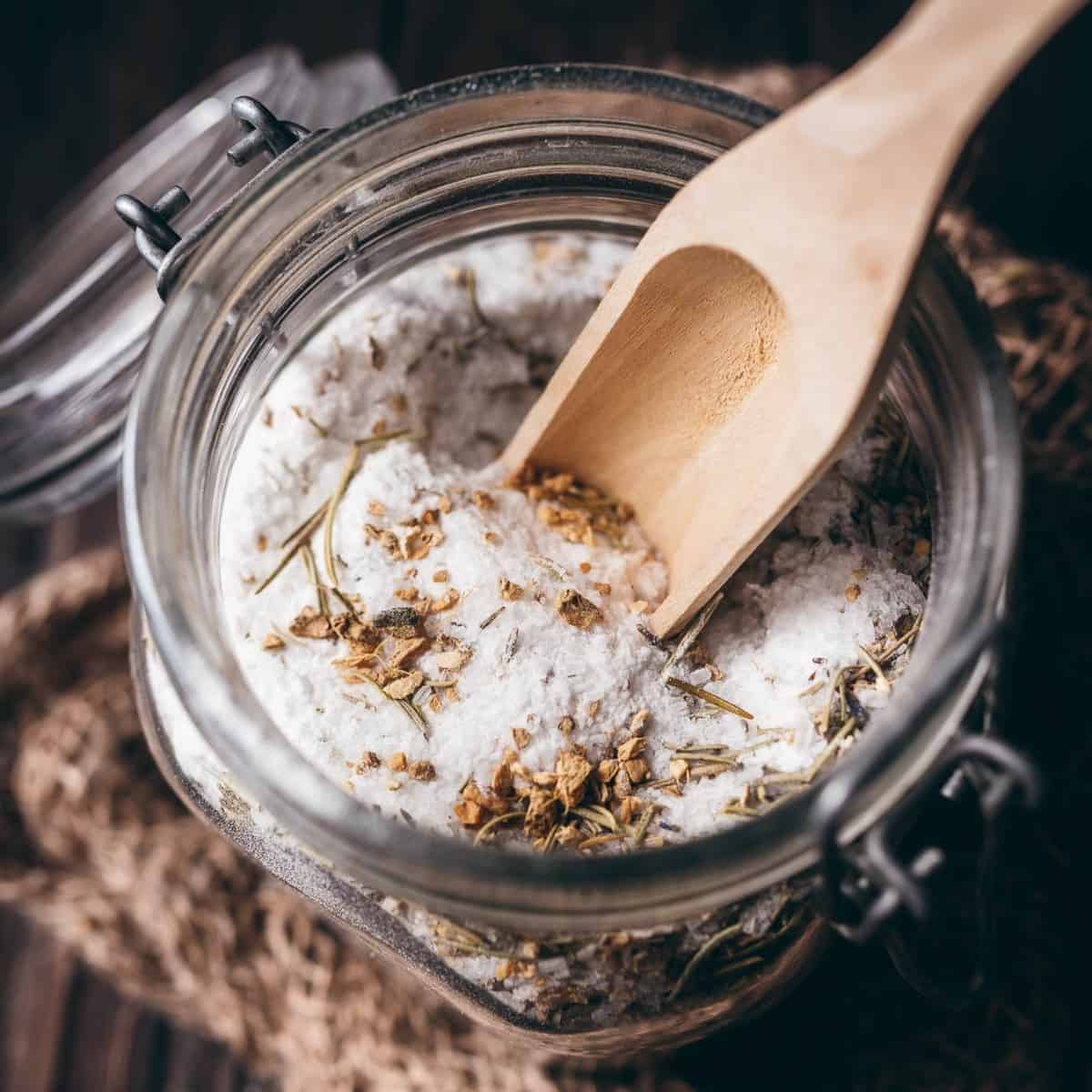 Jump to:
Soothe overworked feet with this relaxing, homemade foot soak! This easy DIY foot bath recipe uses dried rosemary, ginger, and Epsom salt to create a fragrant, relaxing soak to help heal your feet.
With only four ingredients this DIY foot soak is the perfect way to step up your self-care routine and relax!
Because Epsom salts have been shown to reduce inflammation and even reduce fungal infections, this foot soak is perfect for repairing sore, dry, and overworked feet.
Why You'll Love This Ginger Foot Soak Recipe
Easy: It's made with only four ingredients all of which you probably have in your cupboard!
Soothing: Epsom salts help reduce tension and aches in your feet.
Nourishing: A homemade soak can easily help remove dead skin and moisturize dry skin.
Fragrant: The smells of rosemary and ginger are enticing, and help treat foot odor as well.
A thoughtful gift: If you're stuck on what to make for a friend, this ginger foot soak is wonderful as part of a self-care basket.
Don't overlook taking care of the one area you use the most: your feet! This DIY foot soak is the perfect way to relax and pamper yourself after a long day.
Ingredients You Will Need
Epsom salt: This classic bath salt has long been used to both relax and repair. Though most commonly used for muscle aches, Epsom salts are also great for helping reduce inflammation, soreness, and tension all around. Given our feet are often overworked and left feeling tired and achy, this salt makes the perfect base as a soak. Plus, they help to soften the skin which means that after a soak is the best time to exfoliate, remove dead skin, and rehydrate with a homemade beeswax lotion.
Dried rosemary: You may be thinking that this herb is there for scent purposes only but that's not the case! In addition to being a great way to relieve stress at the end of the day, rosemary is also great to boost circulation! Freshly dried rosemary will have the best bang for your buck but any you have on hand will work.
Baking soda: Normally added to a bath to help with any skin irritations or even itchy feet. In this homemade rosemary foot soak, baking soda also helps to lightly exfoliate the skin and cleanse the feet. This is especially important if your feet have been couped up in socks all day long!
Dried ginger root: A great scent, but ginger root is also wonderful at helping to reduce puffiness and pain from sore muscles. If you find your feet tend to ache and swell by the end of the day, this foot soak is for you.
How To Make Homemade Foot Soak
In a large bowl, add all the ingredients and mix well.
Store in a jar or airtight container until ready to use.
Important Tips
Make sure that when mixing the ingredients, you crush any large chunks of Epsom salts. This helps the mixture blend more evenly and will make each soak nicely balanced.
The homemade foot soak can be stored in an airtight container for up to one year in a cool, dark place.
When you use it, use a wooden spoon to remove the amount you need (or pour right from the jar). If your hands are wet and water gets into the jar the soak will become clumped together and not work properly.
It goes without saying that you should also ensure that there is no moisture in the jar before adding the ingredients.
Though you can use essential oils in place of the dried herbs for this recipe, you will need to adjust the ratios.
You can use ground ginger powder or ground rosemary in place of whole if that is what you have on hand.
Essential oils are much more potent than herbs and won't blend into the foot soak as well. For storage purposes, they may also cause a bit of clumping after they're mixed. Remember also that the dilution rates for children differ from those of adults so adjust as necessary when using it.
How To Use Foot Soak
When you're ready to use the foot soak, fill a basin with very warm water (the warmer the water the more your feet will benefit!).
Add 1/3 of a cup of the homemade foot soak and mix gently until it dissolves.
Soak feet for at least 15 minutes before patting them dry.
If possible, after soaking, exfoliate your feet with e a pumice stone. This is when the skin is softened the most and you'll end up with silky soft feet!
Frequently Asked Questions
What does soaking feet in ginger do?
Ginger root is a wonderful way to eliminate bacteria, soothe inflammation, and even improve circulation. Adding it to your foot soak will help take away some of the aches and swelling in your feet.
What can I use to soak my feet in to naturally remove dead skin?
To naturally remove dead skin, soak your feet in an Epsom salt foot bath a few times each week. Combine Epsom salts with warm water in a small basin and let your feet soak for twenty minutes or more. After which, use a pumice stone to gently rub away the dead skin.
How many times per week should you use a DIY foot soak?
To start off with, use a homemade foot soak 1-2 times per week, soaking for 20 minutes or more each time. After the foot soak, gently exfoliate away the dead skin. You'll want to make sure your feet don't dry out so make sure to use a rub on a soothing lotion after the foot soak.
You Might Also Love
Homemade Rosemary Ginger Foot Soak
Indulge in self-care with our homemade foot soak, blending rosemary and ginger for ultimate relaxation. Discover its soothing benefits today!
Instructions
In a mixing bowl add the epsom salt, dried rosemary, baking soda, and dried ginger root. Mix until well combined.

Store the foot soak in a lidded jar or airtight container for up to one year until ready to use.

To use, fill a basin with very warm water. Add ⅓ cup of foot soak and let it dissolve.

Soak and enjoy!