Let's explore palo santo vs sage! This is a comparison of Palo Santo, an aromatic wood from the Andes Mountains, and Sage, a common smudging herb.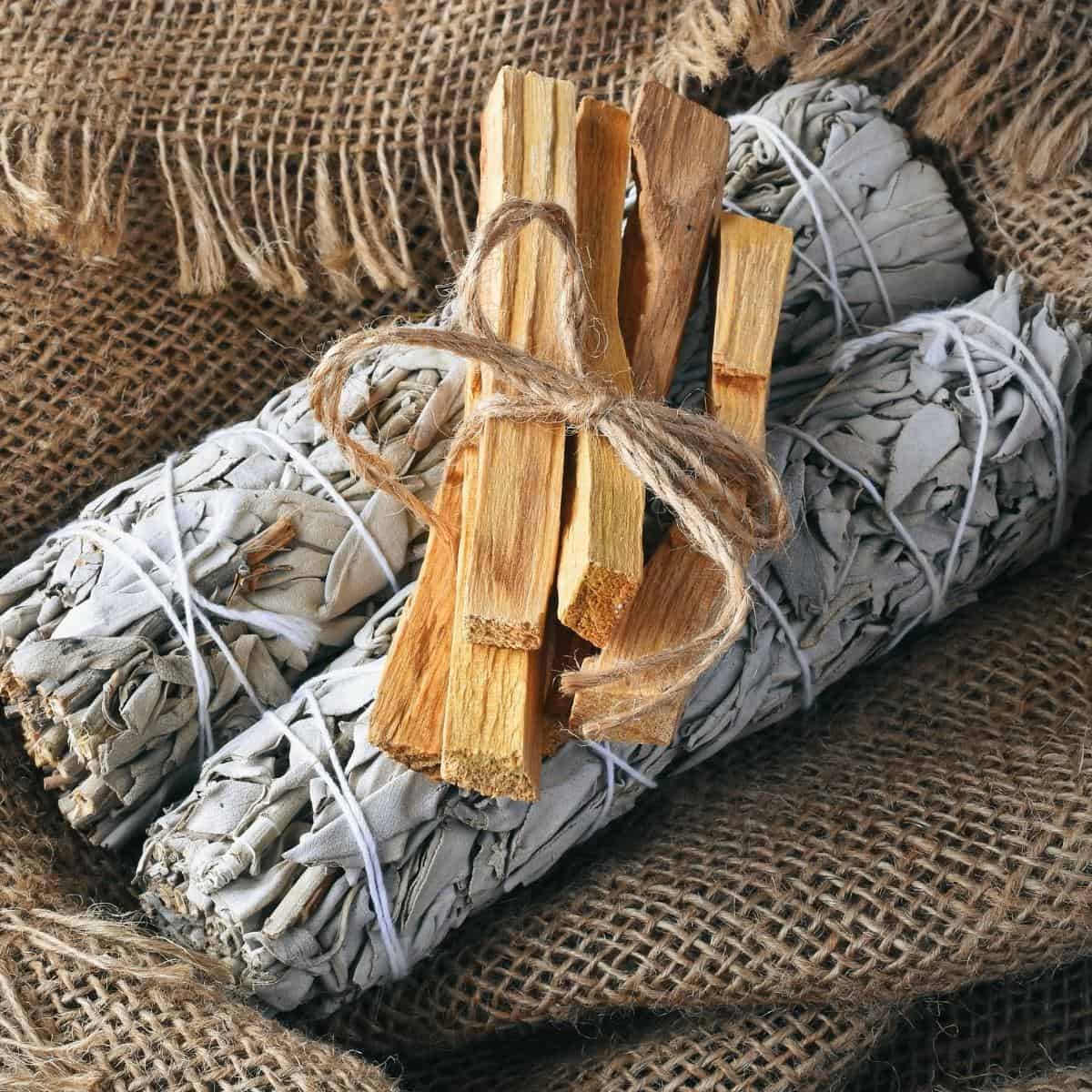 Jump to:
Palo Santo
Palo Santo (holy wood in Spanish) is the name of the wood of Bursera graveolens trees, native to South America, particularly Peru and Ecuador. Conscientious farmers will only harvest Palo Santa from trees which have fallen naturally and only once they have lain on the forest floor for four to ten years.
For thousands of years, cultures worldwide have used Palo Santos wood, resin and oil as sacred plant medicine. They are also used for cleansing purposes, promoting positive energy in a space and healing pain. Palo Santo is also said to relieve stress and is a great way to welcome creativity.
The delicious scent of Palo Santo is said by some to be similar to liquorice; it's certainly sweet and woody with citrus hints.
Sage
Sage (Salvia officinalis) is an aromatic herb, and white sage, in particular, has been used for centuries by shamans to clear negative energy. Burning sage, or smudging, is part of rituals carried out to cleanse spaces and involves burning bundles of the leaves.
Native Americans have historically used sage to cleanse spaces and objects. It's used by many people today to soothe stress, improve sleep quality and boost energy and clarity. The smoke from burning sage also acts as an excellent insect repellant!
Studies have shown that burning sage releases negative ions, which are believed to increase serotonin levels and may help to remove allergens such as pet dander from the air.
Palo Santo vs Sage - The Differences
The main difference is that you can use sage to actively remove negativity from a space, while Palo Santo promotes positivity.
If you're looking for the right option for a cleansing ritual, it's worth bearing this in mind. If you're cleansing a space where you suspect there may be a lot of negative energy, for example, if you're cleansing after a breakup or argument, then sage may be a better bet.
However, Palo Santo is a fantastic choice if you want to promote a positive mood and relaxation or create a ceremony to unleash your creativity. Many of the benefits of Palo Santo come from the limonene in it, which helps to reduce pain, improve the stress response and repel mosquitos.
How to Use Sage
If you are cleansing your space, the easiest way to use sage is to buy a ready-made sage bundle designed for burning. It's worth noting that the type of sage used for smudging is not the same as the sage you have in your kitchen for cooking! Make sure you buy white sage.
Begin by opening up the doors and windows in your space, giving the negative energy somewhere to go. At this stage, you should also think about how you're going to hold the sage and fan it around the area - traditionally, people use an abalone shell to hold the sage and a feather to fan the smoke around the room.
Apply a flame to the sage and let it burn for about 20 seconds before blowing it out gently to leave orange embers at the end of the bundle. Then, gently move about the room with your sage and ensure it gets into every corner.
You can also get white sage incense if you just want to burn sage for the yummy scent.
How to Use Palo Santo
Depending on your preference, you can use Palo Santo wood, resins or oil.
Burning Palo Santo sticks is a good option if you want to perform a cleansing ritual. You simply burn the sticks and then witness the rising smoke as it clears misfortune and negative thoughts. You can also use the sticks to cleanse crystals by allowing the smoke to envelop them.
Palo Santo oil in an oil burner or as incense is also an excellent accompaniment to your meditation practice, promoting calm and creativity.
Frequently Asked Questions
Does palo santo smell like sage?
Palo Santo and Sage smell similar, but not the same. Palo Santo has a more subtle scent underscored by freshness and is a little sweeter than sage.
Can you burn sage and palo santo together?
Used simultaneously, sage and palo santo can be powerful as they once rid the space of negative energy and welcome positive, creative energy. 

However, the key to ritual burning of both sage and palo santo is the intention behind the practice, so it may get confusing trying to hold space for both purposes at once. If this is the case for you, you might prefer to burn them separately.

Where to buy sage and palo santo?
It's essential to ensure that you buy ethically farmed sage and Palo Santo from people who love their crops and respect the planet. The farmers' intentions will form part of your ritual, so you must ensure they are positive!

Try to buy yours from a local spiritual practitioner so that you can ask about farming practices. Alternatively, you can purchase ethical sage and Palo Santo online.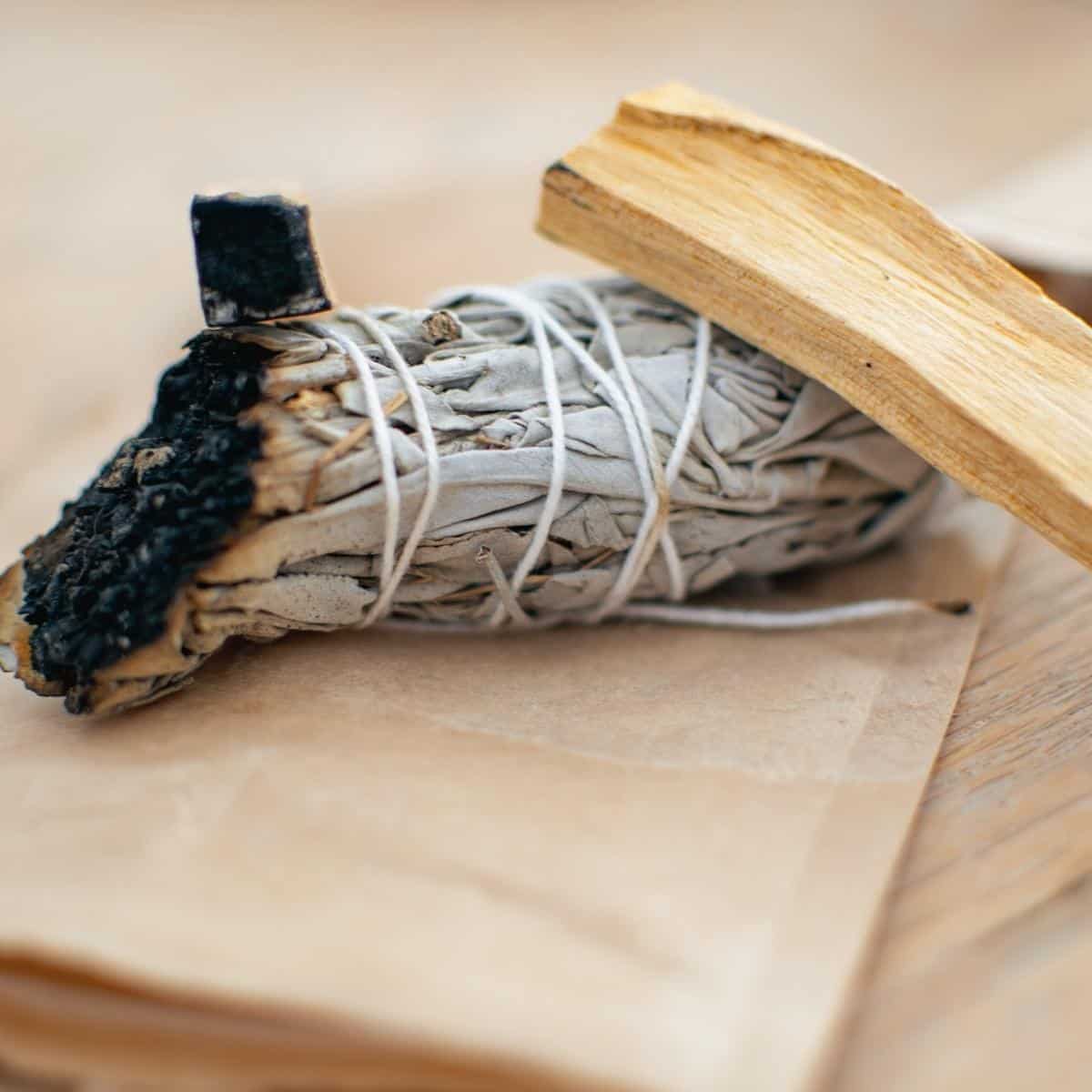 In Conclusion
You can use both sage and Palo Santo to help you to get in touch with your spirituality, cleanse your space and promote wellbeing.
Palo Santo has been used in Latin American traditions for hundreds of years to promote creativity, reduce pain and help with stress. In addition, it allows you to infuse your space with positive energy.
Traditional practices have used sage for a long time to cleanse physical spaces, helping you get rid of negative energy, boost your energy levels, and improve mental clarity.
As with any cleansing ritual, the intention behind it is one of the most critical factors in ensuring success, so always take a moment to center yourself and focus on your intention before getting started.
You Might Also Like
What to do with Dried Lavender