If you're a fan of the flavor of chai, then you'll love this DIY Chai Bath Melts Recipe. It is easy to make and leaves skin silky and soft!
Jump to:
What are Bath Melts?
Bath melts are a skin moisturizing bath product that is designed to melt in water. They are made with a variety of different ingredients, including but not limited to body butters, oils, essential oils, and salts.
Bath melts are often used as a way to moisturize the skin and add a bit of luxury to the bath-time experience. They can also be added to homemade soaps, shampoos, and other bath products for extra moisturization.
When used in the bathtub, DIY bath melts help to create a soothing and relaxing environment. The added moisture also helps to soften the skin and keeps it hydrated. If you're looking for a way to add a little bit of luxury to your next bath, consider trying out some bath melts!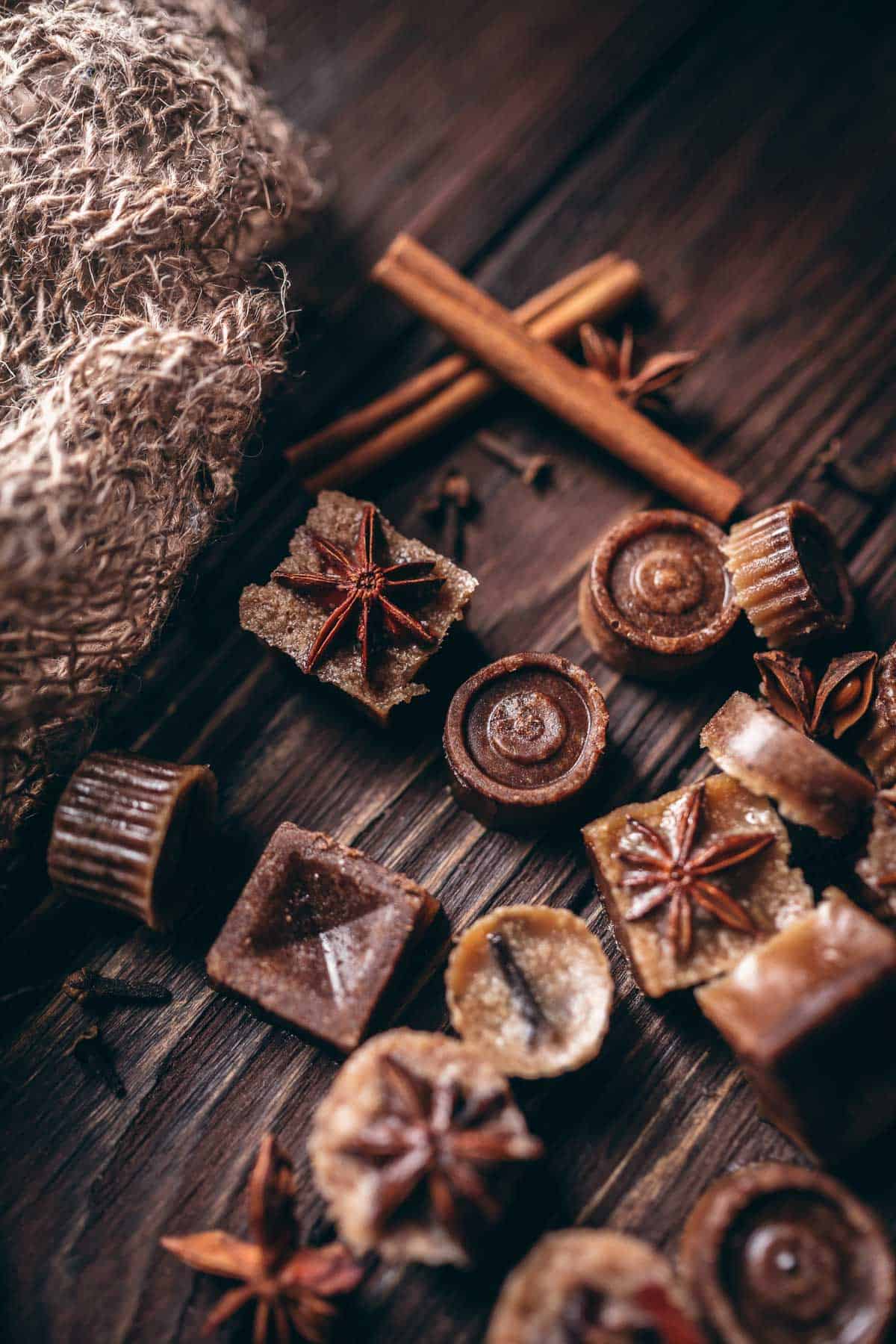 Why You'll Love This Recipe
If you are a fan of chai tea, you will love the scent and properties of these easy homemade bath melts!
Most of us are familiar with the benefits of a relaxing soak in the tub, but did you know that adding Epsom salt can increase those benefits? Epsom salt is actually a mineral compound made up of magnesium sulfate, and when dissolved in water, it can help to relieve muscle pain, reduce inflammation, and ease stress and anxiety. In addition, there is some evidence that magnesium sulfate is absorbed through the skin, making it an excellent way to replenish magnesium levels.
Adding the Epsom salt with butters to a bath melt means you get the benefits of the salts but also the moisturizing benefits of the butters, and the relaxing scent of the spices, all in one little fun bath melt!
Ingredient Notes
Butters: I like to use mango and shea butter in this recipe. You can use any kinds of butter you would like but aim for the ones with the most moisturization and the least chemical additives. Cocoa butter is another one of my favorites for this recipe!
Epsom salt: You can usually find Epsom salt at your local drugstore or pharmacy. You can also purchase them online from a variety of retailers. If you do not have epsom salt, you an replace it with sea salt if you prefer.
Baking soda: Baking soda is a natural salt that can help to soften the skin and relieve tension. It also has neutralizing properties that can help to counteract the effects of other acids in the melt, such as citric acid. As a result, adding baking soda to bath melts can help to improve their overall effectiveness.
Chai spices: The classic chai spices are cinnamon, cloves, ginger, and nutmeg. I like to use a ground version of each so nothing is left floating in the bath!
How to Make Bath Melts
In a double boiler, combine the mango butter and shea butter and heat until melted.
Remove from the heat, then very gently stir in the Epsom salt, baking soda, cinnamon, ginger, cloves, and nutmeg until completely combined.
Once the mixture is combined, pour it into silicone molds or ice cube trays. Place in refrigerator until set, which takes 1-3 hours.
After your bath melts have cooled and solidified, carefully remove them from the mold.
How to Use
Bath melts are the perfect way to turn an ordinary bath into a luxurious spa experience. To use, simply drop 1-2 melts into a tub of warm water and let them dissolve. As they do, they will release a soothing fragrance and a wealth of skin-nourishing ingredients.
Soak for 20 minutes or longer, and emerge feeling refreshed and relaxed. Bath melts are an excellent way to pamper yourself, and they also make a great gift for any occasion.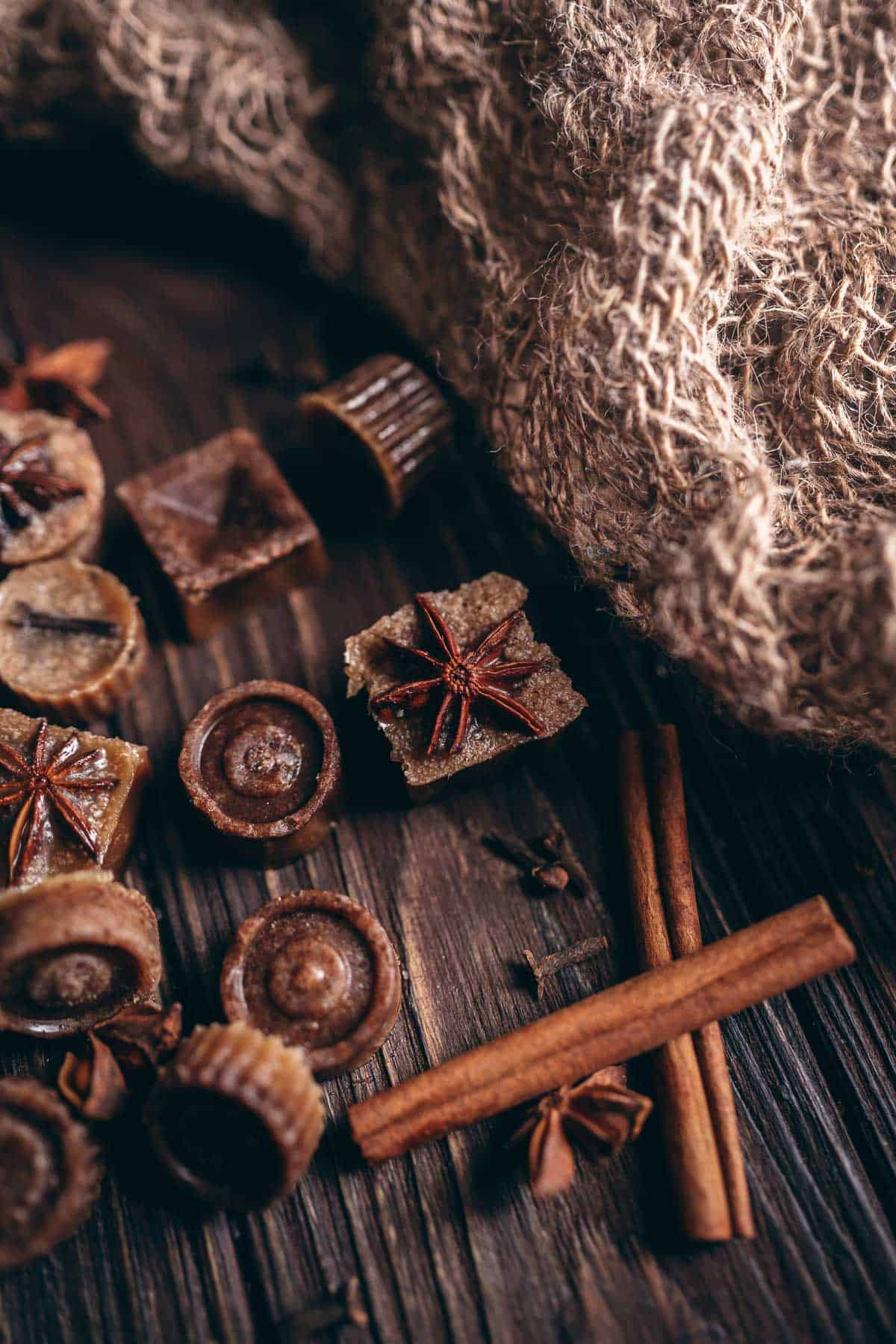 Variations
Bath melts are a luxurious way to enjoy a relaxing bath, and they're surprisingly easy to make at home. The key ingredients are shea butter and mango butter which melt together to create a smooth, creamy base. To this, you can add any number of fragrant and nourishing ingredients.
For a truly indulgent experience, try adding a few drops of a favorite fragrance oil or essential oil and some dried lavender buds or a teaspoon of dried rose petals. Or, for something a little different, try adding a tablespoon of ground coffee for the antioxidants and exfoliating power.
Sometimes I like to make a version minus the spices but with lavender essential oil instead for a great relaxing pre-bedtime ritual.
Storage
Store them in an airtight container until you are ready to use them; they will last up to one year when stored properly. There's no need to keep them in the fridge (but if you prefer to, you most certainly can!).
Frequently Asked Questions
Can you use bath melts in the shower?
Yes, you can use homemade bath melts in the shower! Bath melts are a great way to add moisture and hydration to your skin. They can be used as a body wash under running hot water or even as a shave gel with the right bath melt recipe. 

Just add a small amount of the melt to your palm and work it into a lather. Then, apply it to your body and rinse off with warm water. Your skin will feel soft and silky smooth! It can also be helpful for people with dry skin and paired with homemade body butters, can increase moisture levels in the skin.
What's the difference between a bath bomb and a bath melt?
Bath bombs and bath melts are both types of products that can be added to baths to make them more relaxing or fragrant. They both typically contain essential oils and other ingredients that can provide aromatherapy benefits. The main difference between the two is that a bath bomb is solid and will fizz when it comes into contact with water, while a bath melt is typically in the form of a bar that will slowly dissolve. Each has its own benefits - for example, a bath bomb can provide a fun show as it fizzes, while a bath melt can help to moisturize the skin.
Ultimately, it comes down to personal preference as to which type of product you prefer.
You Might Also Like
Chai Bath Melts
If you're a fan of the flavor of chai, then you'll love this DIY Chai Bath Melts Recipe. It is easy to make and leaves skin silky soft!
Yield:
30
small bath melts
Materials
¼

cup

mango butter

solid form, grated or chopped

¼

cup

shea butter

solid form, grated or chopped

2

tablespoons

epsom salt

1

tablespoon

baking soda

1

teaspoon

ground cinnamon

1

teaspoon

ground ginger

½

teaspoon

ground cloves

¼

teaspoon

ground nutmeg
Instructions
In a double boiler over low heat, add the mango butter and shea butter and warm until melted.

Turn off the heat, then gently stir in the epsom salt, baking soda, cinnamon, ginger, cloves and nutmeg until smoothly combined.

Pour the mixture into the silicone molds of your choice and place into the refrigerator to set until solid, usually 1-3 hours.

Gently remove the bath melts from the molds and store in an airtight container in a cool place for up to one year until ready to use.

To use, drop 1-2 bath melts into a bathtub full of warm water, soak and enjoy!