An easy DIY bath tea recipe with a rich and comforting pumpkin spice fragrance and skin-soothing oats.
Jump to:
What is Bath Tea?
Bath tea, also known as tub tea, is a tea sachet filled with plant-centered ingredients that you place into a bathtub for a fragrant and skin-beneficial soaking experience.
Ingredient Notes
Epsom salt: Epsom salt (also known as magnesium sulfate) is rich in magnesium and soothing to the skin, sore muscles and joints, while also promoting relaxation and relieving tension. If you do not have epsom salts, you can use coarse sea salt.
Rolled oats: When dissolved in warm water, rolled oats (aka oatmeal) soothe and moisturize the skin, relieves skin irritations such as rashes or itchiness with its anti-inflammatory properties, and naturally cleanses and protects the skin, making it an excellent choice for a bath tea recipe.
Pumpkin spice: Ground pumpkin spice or pumpkin pie spice powder adds that classic pumpkin spice fragrance.
Cinnamon: Cinnamon chips or chopped cinnamon sticks add not only a rich cinnamon scent, but also increase circulation and provides a rich source of antioxidants for the skin.
Cloves: The rich warming scent of whole cloves in tub tea really provides a unique experience for the senses and also has natural antibacterial and antiseptic properties. If you do not have whole or ground cloves, I recommend using 10 drops or so of clove essential oil instead.
Ginger: Dried ginger root really contributes to the classic pumpkin spice scent as well as has natural scar and inflammation-reducing properties. It is also helpful in reducing aches and pains of any sort.
Sweet almond oil: I like how easily sweet almond oil absorbs into the skin when used in a bath, but any carrier oil of your choosing will work. Olive oil, jojoba oil and hemp seed oil also make excellent choices. Oil adds all important moisture!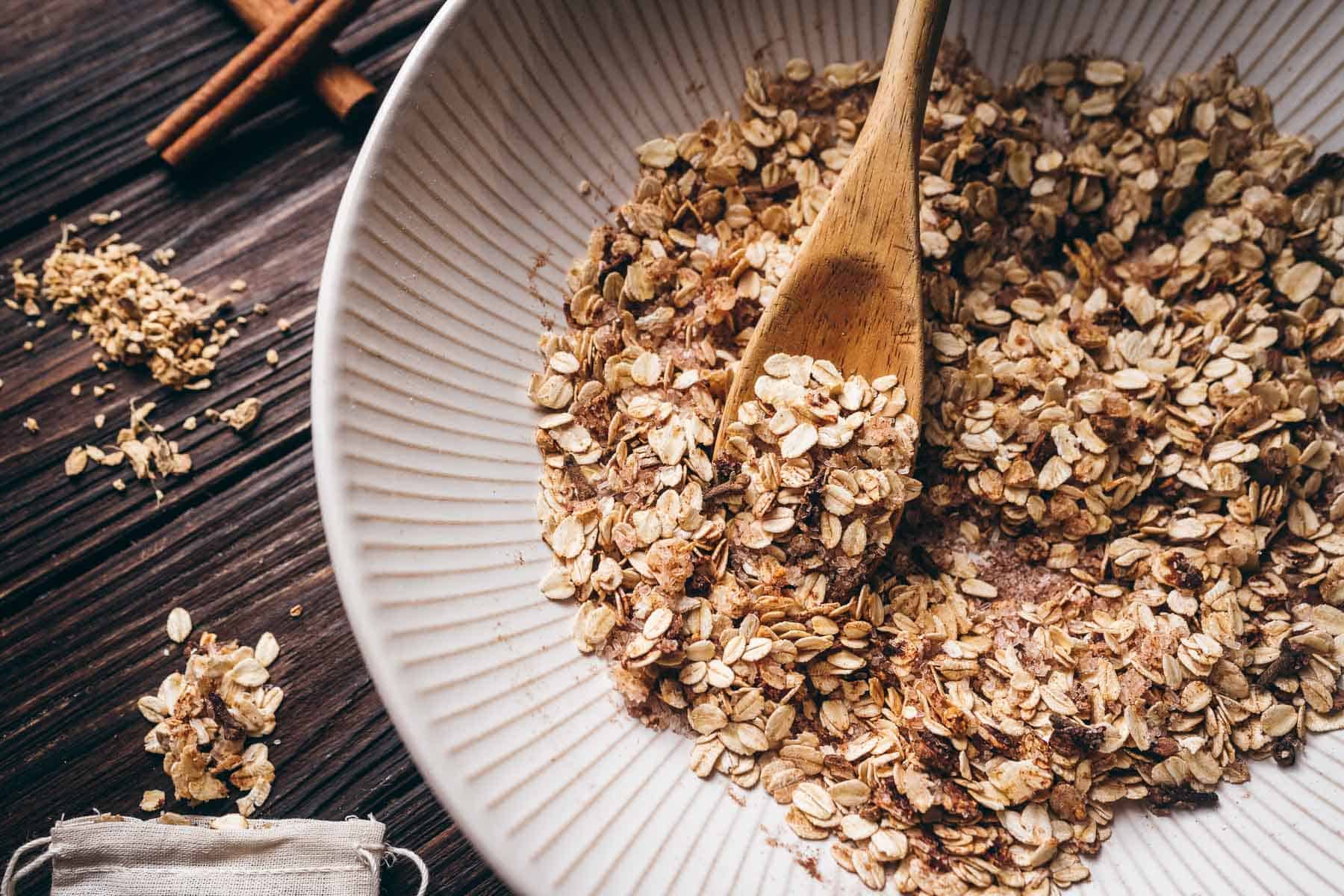 How to Make Bath Tea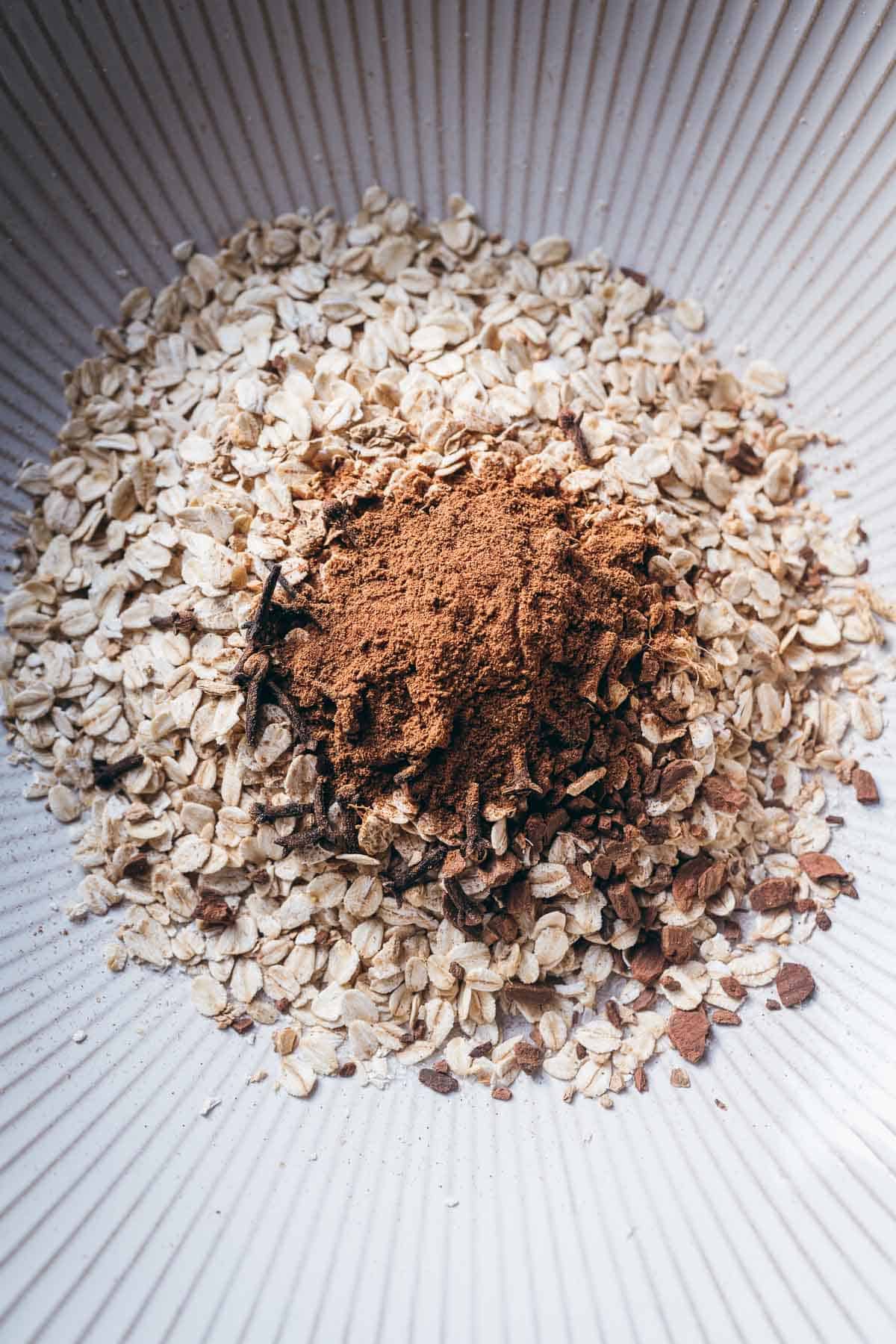 How do I use bath tea?
You can either toss a bath tea bag directly into a tub full of warm bath water or hang the bag over the bath tub spout while you fill the tub with warm water.
Variations
Once you get this easy DIY herbal bath tea recipe down pat, you can experiment with your own bath tea blends! Try filling bath tea bags with a mix of some the ingredients below.
Dried lavender buds.
Dried rose petals.
Dried chamomile flowers.
Dried herbs like peppermint, eucalyptus, spearmint, sage or lemon balm.
Powdered milk or coconut milk.
A few drops of a favorites essential oil or extract. I like to add lavender essential oil or vanilla extract.
Himalayan salt.
Herbal teas! Empty a favorite tea bag that you enjoy drinking into your bath tea mix.
Storage
Keep bath tea bags stored in a mason jar or other airtight container in a cool, dry place until ready to use. They will keep for at least one year in the right conditions.
More DIY Bath Recipes
Pumpkin Spice Bath Tea
An easy DIY bath tea recipe with a rich and comforting pumpkin spice fragrance and skin-soothing oats.
Materials
½

cup

epsom salt

½

cup

rolled oats

gluten-free if necessary

1

tablespoon

ground pumpkin spice

or pumpkin pie spice

1

teaspoon

cinnamon stick chips

or chopped cinnamon stick

1

teaspoon

whole cloves

or 1/2 teaspoon ground cloves

1

teaspoon

dried ginger root

or 1/2 teaspoon ground ginger

1

teaspoon

sweet almond oil

or other oil of choice
Instructions
In a large mixing bowl, combine the epsom salt, oats, pumpkin spice, cinnamon, cloves and ginger. Stir well.

Add the oil, then mix until all is well incorporated.

Divide the mixture evenly into natural muslin or cotton cloth bags with drawstring closures (approximately ¼ cup bath tea per bag).

Throw one bag of bath tea into the bathtub under warm running water to steep.

Soak and enjoy!